Posts from —
May 2008
Stephan Ohlenmacher of Associated Press notes that Obama used party rules to foil Clinton
WASHINGTON – Unlike Hillary Rodham Clinton, rival Barack Obama planned for the long haul.

Clinton hinged her whole campaign on an early knockout blow on Super Tuesday, while Obama's staff researched congressional districts in states with primaries that were months away. What they found were opportunities to win delegates, even in states they would eventually lose.

Obama's campaign mastered some of the most arcane rules in politics, and then used them to foil a front-runner who seemed to have every advantage — money, fame and a husband who had essentially run the Democratic Party for eight years as president.
May 31, 2008 12 Comments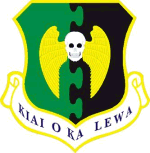 The Associated Press reports that the Air Force wing in nuclear goof has more trouble
BISMARCK, North Dakota (AP) — The Air Force wing blamed for a foul-up in which a bomber mistakenly flew to Louisiana armed with nuclear missiles will have to be retested after coming up short in an inspection.

The Defense Threat Reduction Agency and the Air Force conducted a weeklong inspection of the Minot Air Force Base's 5th Bomb Wing beginning May 16, said a base spokeswoman, Maj. Elizabeth Ortiz.
May 31, 2008 12 Comments

Position: 18.4 N 89.2 W. [7PM CDT]
Movement: West-Northwest [280°] near 6 mph.
Maximum sustained winds: 40 mph.
Wind Gusts: 50 mph.
Tropical Storm Wind Radius: 260 miles.
Minimum central pressure: 1005 mb.
Arthur is about 55 miles West of Chetumal, Mexico and is moving over Yucatan.
Arthur just couldn't wait for opening day.
Updated at 7PM
May 31, 2008 4 Comments
The Atlantic hurricane season officially starts on June 1st and runs through November 30th. As has been the case the last few years, an above normal season is projected, but that doesn't mean anything more than the conditions should be favorable.
The Yucatan had a terrible year in 2007, but nothing much happened in the Gulf. There's no way of knowing because there are just too many variables.
Storm Classification
Class
Wind Speed
Pressure
Storm Surge
MPH
Knots
KPH
Inches
Millibars
Feet
Meters
Small Craft
21-37
18-32
34-60
—
—
—
—
Gale
38-55
33-48
61-89
—
—
—
—
Storm
56-74
49-64
90-119
—
—
< 3
< 1
Category 1
75-96
65-83
120-154
> 28.94
> 979
3-5
1-2
Category 2
97-110
84-96
155-178
28.94-28.50
979-965
6-8
2-3
Category 3
111-130
97-113
179-209
28.49-27.91
964-945
9-12
3-4
Category 4
131-155
114-135
210-250
27.90-27.17
944-920
13-18
4-6
Category 5
> 155
> 135
> 250
< 27.17
< 920
> 18
> 6
May 31, 2008 4 Comments
…or more coincidence.
The thing about being an analyst is that you start looking for patterns, so you may see things as connected, that aren't actually. You don't quit because you will also stumble across patterns that others missed, which is why you need to have more than one person review the facts.
This seems to be a time for dying directors, and Sydney Pollack just passed away this week. His last project was the HBO movie on the Florida 2000 election, Recount, but his illness forced him to withdraw from the directing of the film, and retain only executive producer credit.
More than three decades ago he directed the film, Three Days of the Condor, about a CIA rogue operation that came apart. In the last scene the hero is hoping to get clear of assassination attempts by revealing what he knows to the New York Times, but the corrupt CIA official asks him "How do you know they'll print it?"
This was the Watergate era, so everyone smugly assumed, of course they'll print it.
May 30, 2008 5 Comments
Physics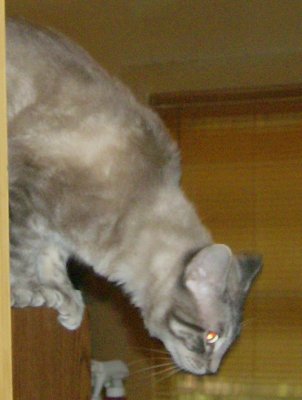 !!Banzai!!…!NOOOO!…[THUD]
[Editor: This the beginning of an action sequence as Excise learned that two bodies cannot occupy the same space at the same time. He was attempting to jump down to the top of a small bookcase to the right while Sox was already airborne for the same landing site. He learned that Sox has more mass. Fortunately for Sox, the collision with Excise prevented him from sliding off the top of the bookcase, the normal result when he jumps up there. Only dignity was injured in this post.]
In Memoriam
May 30, 2008 13 Comments
From CNN's Political Ticker: Pelosi prepared to 'step in' to end race
(CNN) – Hillary Clinton has hinted that she is prepared to take her fight to fully seat Florida and Michigan all the way to the party's convention in late August, but House Speaker Nancy Pelosi says that's not going to happen.
…

"I will step in," Pelosi told the paper. "Because we cannot take this fight to the convention…It must be over before then."

… [The] House Speaker has said Democratic superdelegates should not overturn the pledged delegate winner, and has warned of irreparable harm if they do so.
…
May 29, 2008 35 Comments
…more probably coincidence, as the death of Mr. Pevney reminded me of The City on the Edge of Forever, which was a time travel story featuring a rather young Joan Collins.
This in turn reminded me of where I had seen the photoshopped scene used in Melina's post at Brilliant at Breakfast: Driftglass Explains it All….
I'm sure driftglass doesn't appreciate what he is implying by putting the Clintons inside the portal. I'm sure he is unaware that the episode is about the necessity of the death of a principled, caring woman to save the world.
After all of the ranting about a Boomer time reference, I feel certain that Obama supporters would never wish death on Mrs. Clinton. 😈
Update: Bob Somerby of The Daily Howler steps you through the media treatment of Mrs. Clinton, and the fact that the Obama campaign was pushing the misreading of the second time she referenced RFK's June death. No one said anything about the first time she said it in a Time magazine article.
May 29, 2008 Comments Off on Serendipity?
I caught this over at CNN and it was a case of, I didn't know the man, but I loved his work: 'Star Trek' TV director dies
PALM DESERT, California (AP) — Joseph Pevney, who directed some of the best-loved episodes of the original "Star Trek" television series, has died. He was 96.

Pevney died May 18 at his home in Palm Desert, said his wife, Margo.

Pevney directed 14 episodes of the 1960s series, including "The City on the Edge of Forever," in which Capt. Kirk and Spock travel back in time to the Depression, and "The Trouble With Tribbles," in which the starship Enterprise is infested with cute, furry creatures.
…

Pevney went on to direct more than 35 films, including two memorable movies from 1957: "Man of a Thousand Faces," which starred James Cagney as silent star Lon Chaney, and "Tammy and the Bachelor," a romantic comedy starring Debbie Reynolds that spawned her No. 1 hit record, "Tammy."

In the 1960s and '70s Pevney turned to television, directing dozens of episodes of series such as "Wagon Train," "Fantasy Island," "The Incredible Hulk" and "Trapper John, M.D."
Well, not all of his work.
Update: Mustang Bobby notes that Alexander Courage composer of the Star Trek theme music died on May 15.
May 29, 2008 Comments Off on RIP Joseph Pevney
CNN reports on the latest area affected: Iceland rocked by earthquake
(CNN) — An earthquake shook southern Iceland on Thursday, reportedly causing injuries and damaging roads and buildings.

The 6.1 magnitude temblor struck about 3:46 p.m. (11:46 a.m. ET), according to the U.S. Geological Survey. Its epicenter was about 50 km (31 miles) east-southeast of the capital, Reykjavik, and was about 10 km (6.2 miles) below the Earth's surface.

It was unclear exactly how many people were injured or the severity of their injuries, Olli Tynes, a journalist with Reykjavik's Channel 2, told CNN.

A hospital in a town near the epicenter was also reported damaged, and some wings have had to be evacuated, he said.

There were no reports of fatalities, but "great material damage," Tynes said. Roads and bridges in the area have been closed.
Iceland is seismically active and buildings are constructed with earthquakes in mind, but it is an island and there's no place to go when it starts shaking. It is also a good ways away from outside help.
May 29, 2008 2 Comments

Position: 11.7 N 86.9 W. [1 PM CDT]
Movement: North [5°] near 7 mph.
Maximum sustained winds: 65 mph.
Wind Gusts: 75 mph.
Tropical Storm Wind Radius: 105 miles.
Minimum central pressure: 994 mb.
Alma is 40 miles West of Managua, Nicaragua and about 175 miles East Southeast of San Salvador, El Salvador.
The Eastern Pacific season started on May 15. Alma will probably be a category 1 hurricane before coming ashore, and there is a small chance of the remnants coming out in the Bay of Campeche and reforming.
The middle of the US is in line for more severe weather today including tornadoes.  Omaha does not look like a good place for a picnic today.
May 29, 2008 Comments Off on Tropical Storm Alma [E. Pacific]
CNN reports on the electrocution deaths in Iraq: Green Beret electrocuted in shower on Iraq base
PITTSBURGH, Pennsylvania (CNN) — A highly decorated Green Beret, Staff Sgt. Ryan Maseth died a painful death in Iraq this year. He died not on the battlefield. He died in what should have been one of the safest spots in Iraq: on a U.S. base, in his bathroom.
…

Maseth, 24, was not the first. At least 12 U.S. troops have been electrocuted in Iraq since the start of the war in 2003, according to military and government officials.
This is a problem that you can encounter in Florida with people who install irrigation systems, they don't test to ensure there is a good ground for the pump. In the old days you didn't have to because all of the pipe was galvanized steel, so there was great grounding. Since the piping has shifted to PVC and CPVC you have to provide a separate form of ground.
May 29, 2008 3 Comments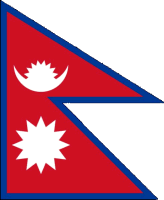 The BBC reports on the world's newest republic: Nepal votes to abolish monarchy
The Himalayan nation of Nepal has become the world's newest republic, ending 240 years of monarchy.

A constituent assembly meeting in the capital, Kathmandu, overwhelmingly voted to abolish royal rule.

The Maoists, the largest party after laying down arms and standing in last month's elections, were committed to ousting King Gyanendra.
While it's tough to lose a family business that has been chugging along for over two centuries, the fact that in 2001 Crown Prince Dipendra killed his parents and a half dozen other members of the royal family in a drunken rage, which resulted in Gyanendra having to take over a job he knew nothing about, did not bode well for the future.
May 28, 2008 6 Comments
When it works HaloScan is a great commenting system.  There are times when I'm dealing with comment spam that I would love to install it in this place.
However, there are days, like today, when it is a major PITA.  The sites that use it are not loading, because it isn't loading.  If you do get them loaded, you have to save your comments for later.
When it works, it is great… when it works.
May 28, 2008 8 Comments