Creative Cartography II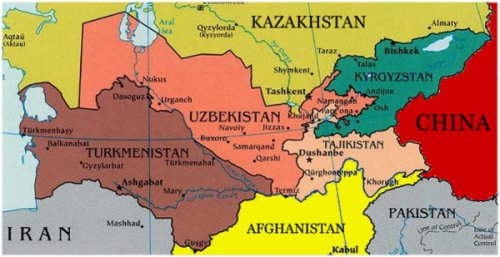 This an example of both Imperial Russian and Soviet mapping decisions.
That corridor of Afghanistan that goes to China was a 19th century decision to separate Imperial Russia from British India, a "demilitarized zone" that prevented "locational errors" from forcing open warfare between two great powers, while they fought the "Great Game" with surrogates. All it really meant is that there were no "official armies" participating in the almost constant warfare in the area. This is the area that Rudyard Kipling was always using as a backdrop for his pieces set in India.
Head to the North and look at the way that Uzbekistan, Tajikistan, and Kyrgyzstan swirl together.  That is an inspired piece of Soviet cartography intended to keep all three unhappy and at odds with each other.  There is a valley where they meet that is a wonderful place with constant water, good soil, and a nice climate.  Traditionally whichever of the three owned that valley controlled the other two and that lead to periods of relative peace, while the two out of the valley plotted to regain it.
The way things were arranged and the mountain ranges, the one who owns the largest portion of the valley, has to pass through one of the other two to get the produce out, and that eliminates any possibility of profit. In addition, the rivers that provide the water are not controlled by the main owner and occasionally get dammed. These things kept these peoples occupied during the Soviet period, rather than forming an alliance and causing trouble for the Soviet authorities, as they had for the Imperial Russian authorities.
The Uzbeks and Tajiks in Northern Afghanistan united long enough to help the US forces oust the Taliban, but they went back to their old warlord ways. When the Uzbek government cracked down on dissidents the Kyrgyz government gave them refuge. At some point, one of them is going to decide it has a chance to take the valley, and then there will be a war. It's part of their heritage and now they have aircraft and tanks.