Unless you feel that netiquette requires that you do it, one of the nice things about the WordPress platform is that I see when people link to me, whether they do anything or not.  Trackbacks show up as comments for the post [see the Friday Ark "comment" on any Friday Cat Blogging for an example], but any link will eventually get back to me through Technorati, which is part of the Site Administration page.
I appreciate links, but don't feel obligated to go beyond that because I will get the message.
August 31, 2007 Comments Off on Blogging Info
KT Takes A Break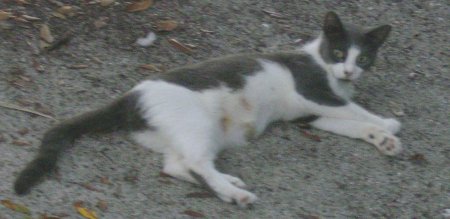 Kittens are hard work.
[Editor: KT was a kitten last year, but has kittens of her own somewhere. She has the classic gray and white markings of the group. I only see her in the evening when I put out "wet" food.]
August 31, 2007 13 Comments