Dr. Cole has a story up at Informed Comment on a current controversy, Tutu Excluded, and links to the Minneapolis Star Tribune article, St. Thomas won't host Tutu
A plan to invite Desmond Tutu to speak at the University of St. Thomas next year was scuttled by university officials who did not want to offend the Jewish community over the Nobel Peace Prize laureate's views on the Israeli-Palestinian conflict, university officials confirmed Wednesday.
October 5, 2007 4 Comments
Zipster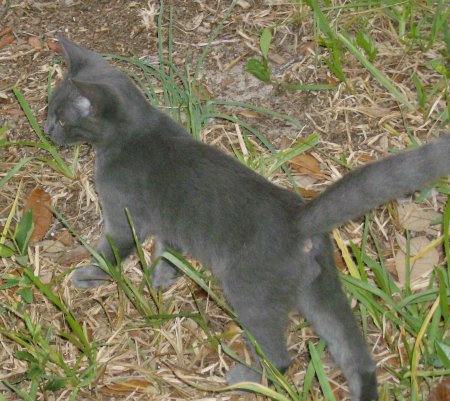 Hurry UP!
[Editor: Zipster looks like Income's younger brother, but he is feral. When I go out to feed the "pride" Zipster dashes around my feet at full speed. He may leap up a tree and then jump down and take off, full tilt, in another direction.]
In Memoriam
Last weekend Melanie at Just a Bump in the Beltway had to say good bye to her good friend, Eddie Purrington Mattson, after an extended illness.
October 5, 2007 11 Comments