The Food and Drug Administration doesn't have enough inspectors to ensure the safety of our food, no doubt because it is part of the Department of Health and Human Services, but the Department of Agriculture has no problem finding the resources to conduct a full-blown investigation of Hemingway's six-toed cats.
So far the USDA has expended the following resources:
More than 270 government man hours spent on the case so far.
The cases involve at least three government lawyers …
Four inspectors …
Six veterinarians …
And at least 14 USDA field trips to sunny Key West.
There are about four dozen of these cats living in and around Hemingway's house in Key West, so what makes this a cause célèbre for the Department of Agriculture? Someone complained, but who? Possibly a big donor? When is Kenneth Starr going to be called in?
October 19, 2007 4 Comments
Via Facing South I found this wonderful article, Louisiana kicks off 2007 gov races, at State Line.
Louisiana has an open primary, i.e. party identification doesn't matter, everyone gets to vote, and the top two finishers go on to the general election if the top vote getter receives less than 50% of the vote. If the number 1 candidate gets more than 50%, they are automatically elected.
They are holding the primary tomorrow and Rep. Bobby Jindal (R-La.) would seem to be on track to win the whole thing, except there's an LSU-Auburn University football game tomorrow and it's the first day of deer season for several areas in the state.
To win outright, Jindal needs the good ol' boys to put off shooting Bambi for a while, and to get to the polls before kick-off. He's asking a lot of Louisiana voters.
October 19, 2007 4 Comments
The price of diesel has gone above £1.00 per liter in Britain, that would be $7.78 per gallon. Too bad we don't have anyone in control who has friends in the oil industry…oh, wait.
Strange how that worked out – almost everything the Hedgemony does cause the price of oil to rise, and then take a dip at election time.
October 19, 2007 Comments Off on Things Could Be Worse
Dr. James Watson has stepped in it, and the Nobel prize can't shield him. Dr. Watson is one of the people credited with the discovery that DNA is a double helix, and he has gone on to other important work, but he is having one of the worse book tours that any author can imagine, and it may have resulted in his loss of his job.
The BBC has the gory details: Lab suspends DNA pioneer Watson
In his Sunday Times interview, Dr Watson was quoted as saying he was "inherently gloomy about the prospect of Africa" because "all our social policies are based on the fact that their intelligence is the same as ours – whereas all the testing says not really".

He was further quoted as saying that his hope was that everyone was equal but that "people who have to deal with black employees find this is not true".
October 19, 2007 12 Comments
Rebecca Morelle has a nice article for the BBC, Creating life in the laboratory, that rounds up all of the major research efforts currently taking place around the world.
While I'm sure that this makes a number of people decidedly unhappy, there really is a purpose that doesn't involve lab assistants named Igor or lightning bolts. Much of the research is aimed at creating microorganisms to help clean up the mess we have made of the planet – bio-Roombas on a very small scale to deal with oil spills, greenhouse gases, and other problems.
October 19, 2007 6 Comments
CBS is promoting a 60 Minutes segment: Valerie Plame: Bush Didn't Keep Word
No one was ostensibly punished directly because of the leak, though Karl Rove, President Bush's close adviser who was involved, resigned some months later. One high administration official, Lewis "Scooter" Libby, then chief of staff for Vice President Richard Cheney, received a jail sentence for lying to investigators probing the leak.

This irks Plame Wilson. "I don't know about (President Bush knowing about the leak beforehand). But I, like most other Americans, saw President Bush say on TV that he would fire anyone from his administration found to be involved in leaking my name," she says. "It turns out the president is not a man of his word."
October 19, 2007 4 Comments
The Associated Press reports Comcast blocks some Internet traffic
NEW YORK – Comcast Corp. actively interferes with attempts by some of its high-speed Internet subscribers to share files online, a move that runs counter to the tradition of treating all types of Net traffic equally.

The interference, which The Associated Press confirmed through nationwide tests, is the most drastic example yet of data discrimination by a U.S. Internet service provider. It involves company computers masquerading as those of its users.
October 19, 2007 6 Comments
National Weather Service Mobile
… Northern Gulf Coast deluge of October 18th and 19th 2007…

The National Weather Service in Mobile has collected the following rainfall totals since Thursday morning Oct 18, 2007… ending at 7 am CDT Friday Oct 19, 2007. Rainfall continues to move through the western Florida Panhandle and portions of southwest Alabama. Thus… the final storm total amounts will be higher still. In addition… Doppler radar estimates and other data sources indicate that much higher rainfall totals occurred in some locations. Additional rainfall reports will be added as they are received.

Navy Pensacola, FL (npa) 14.88 inches
West Pensacola, FL (cocorahs) 14.72 inches
6.2 W Mary Esther,FL (cocorahs) 12.90 inches
Pensacola Regional Airport, FL (pns) 11.89 inches
Mary Esther, FL (hrt) 11.74 inches
Destin, FL (dts) 10.38 inches
6.4 W Crestview, FL (cocorahs) 10.30 inches
Valparaiso, FL (vps) 10.02 inches
Niceville, FL (coop) 9.94 inches
ft Walton Beach, FL (cocorahs) 9.58 inches
2.3 se Niceville, FL (cocorahs) 9.44 inches
October 19, 2007 3 Comments
The Boys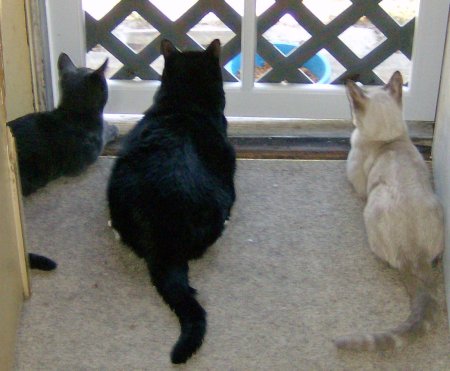 And then there was the time…
[Editor: Income, Sox, and Excise looking out the front door while Sox lies about his life as a feral cat.]
October 19, 2007 7 Comments