My Condolences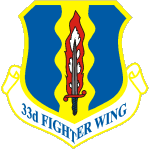 CNN reports Air Force: 1 pilot dies, another survives after F15Cs collide
(CNN) — An Air Force fighter pilot died Wednesday after two F-15C jets collided during a training exercise over the Gulf of Mexico, according to Air Force officials.

The planes were from the 33rd Fighter Wing, a combat-flying unit out of Eglin Air Force Base, near Pensacola, Florida.

A spokesman for the wing said the pilot died after having been rescued by a fishing boat and transported to the hospital at the base. The pilot of the other jet was also rescued and was listed in good condition, he said.

The crash happened at about 3 p.m. ET, about 50 miles south of Tyndall Air Force Base which is in Panama City, Florida. A statement from the 33rd said the pilots were rescued at about 6 p.m. ET.
These guys fly over my house. The base surrounds all of the local towns. These are my neighbors.