Excellent?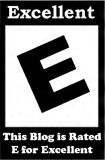 For unknown reasons Michael at Cannablog thinks this place is Excellent, and has given it an award.
Regardless of my own feelings of worthiness, or lack thereof, there are a number of people among the denizens of blogtopia™, who should be recognized.
Andante at Collective Sigh has gotten some bad health news and is having to deal with the treatment and concerns over paying for it. She shows excellence in spirit in the way she dealing with it.
Michael at Musing's musings is displaying his excellence is dealing with the tragedy of the attack at NIU. He is chronicling his feelings about adjusting to this new reality.
Rook at Rook's Rant keeps on keeping on dealing with what the world throws at him.
Catnapping at Odd Neighbor Illustrations produces beautiful artwork in a location where refrigeration thermometers are all they use this time of year.
Elayne Riggs of Pen-Elayne on the Web is one of the most consistent bloggers around. Her "Silly Sites" are there every day, and every month starts with "White Rabbits".
Fallenmonk of Fallenmonk is the source for skytracking information on satellites as well as a recipes for traditional and untraditional grits.
Jack K. is the Grumpy Forester and among the reasons he's grumpy is having to deal with dial-up, because no one thinks that people outside the cities in Oregon want or need broadband.
PoP of Morning Martini is always worth reading, especially for Fred the Cat's Friday sermon.
Scorpio can be found at Eccentricity, Mockingbird's Medley, and Pacific Views which certainly qualifies for excellence.