There's an old comedy routine that I seem to remember was about one of the earlier Republican screw-ups, either Watergate or Iran-Contra. The comedian said he was "accepting the responsibility for what went wrong … but not the blame. The difference is that those that accept responsibility get to keep their jobs, but those who get blamed don't.'" That's what this whole controversy is about: avoiding the blame.
Sean-Paul at the Agonist is right about the discussion concerning the effectiveness of torture: It's the wrong question, and it never should have been asked. It doesn't make any difference if someone could show that some of the information acquired was useful, because the method is illegal and un-American. It's a war crime. People have been executed for engaging in it.
Even if there is a report somewhere that shows that some information was acquired from someone who was tortured, those claiming that torture works are going to have to prove that the information wouldn't have been acquired without torture. They can't do it because all of the real professionals refused to be involved in the torture and the process was taken over by a bunch of untrained, amateur Torquemadas who didn't have any idea how to conduct a real interrogation.
April 24, 2009 32 Comments

CNN is reporting that a Yard debris burn likely behind South Carolina fire, official says
(CNN) — The cause of a South Carolina wildfire that has charred about 19,600 acres appears to be a yard debris fire, the head of the state's Forestry Commission said Friday.

The blaze seems to have been caused by a yard debris fire in the Woodlawn subdivision, an unincorporated part of Horry County, halfway between Conway and North Myrtle Beach, South Carolina Forestry Commission Forest Protection Chief Darryl Jones said.

The fire began Saturday and rekindled itself Wednesday evening, according to the Forestry Commission.
Apparently the debris fire appeared to be out, but the winds blew it back to life. Another problem is that there are peat bogs along the South Carolina coast, and when they are drained and built upon, it is the same as building on a coal seam. If the peat starts burning, it can continue underground until there is enough rain to thoroughly saturate the ground.
The Myrtle Beach Sun News notes that Gusty winds expected to challenge firefighters today, as the fire is approximately 50% contained. To date there are no injuries reported from the fires.
The paper also has a Google Map showing the fire areas, road closures, and shelters.
April 24, 2009 6 Comments
Bad News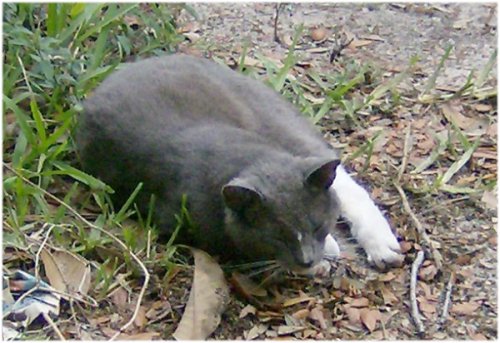 Scram!
[Editor: Some people thought Spot looked tough, but Blaze is a nasty piece of work. He has survived kitten testing to become an equal of Grey Nose, an alpha tom. When the screeching starts outside, I know he's involved.]
April 24, 2009 6 Comments