We Have A Winner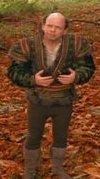 Vizzini Award for Language Abuse [Second Class] to University of California Police Captain Margo Bennett for her redefinition of "violence".
In Digby's article, Asymmetrical Violence, we discover this quote:
"The individuals who linked arms and actively resisted, that in itself is an act of violence," UC police Capt. Margo Bennett said. "I understand that many students may not think that, but linking arms in a human chain when ordered to step aside is not a nonviolent protest."
Captain, if the English department of the University decided to pound you to a pulp with dictionaries, they could plead 'defense of the language'.