Posts from —
November 2006
CNN reports: Al-Sadr bloc talks of alliance with Sunnis, Christians.
Something that people miss is that unlike other Shi'ia blocs, the group around Moqtada al Sadr wants a unified Iraq and opposes breaking up the country into three loosely federated states. Al Sadr has maintained contacts with Sunni and Kurdish groups hoping to form a unity government that would govern the entire nation.
It is indeed ironic that the Shrubbery and Moqtada al Sadr are probably the only people left on the planet who believe this is possible.
Update: Pat Lang muses on the motives behind this.
November 30, 2006 2 Comments
Ellroon of Rants from the Rookery was the first place I saw this reference to Palestine, and then Juan Cole of Informed Comment had the bulk of the statement up yesterday: King Abdullah II: It's Palestine, Stupid.
This meshed with a Jimmy Carter interview on Fresh Air with Terry Gross promoting his new book, Palestine – Peace Not Apartheid.
Assassination and natural death has rendered Jimmy Carter the only major figure left among those who once saw how it was possible to achieve peace in the Middle East. Mr. Carter has the standing to push the issue if the current leaders would just call on him to do it. He knows the shape of the possible compromises and isn't worried about anything except peace.
Abdullah is right, as long as the Palestinian situation continues to be unresolved; there is no hope for long-term peace in the region. It is the festering wound from which the infection spreads.
November 30, 2006 2 Comments
I can't recommend strongly enough that you should not use crack and then go skinny-dipping in a lake with alligators.
The BBC reports on a US man saved from alligator jaws. "Four members of the Polk County [Florida] Sheriff department waded through waist-deep mud in the dark to reach Adrian Apgar, 45, and pull him free from the alligator."
The 12-foot 'gator was later captured by a trapper, no doubt based on the fact that in was the only 'gator in the lake in handcuffs [sorry, local joke referencing Florida police procedures].
As I was speaking of jokes, you might want to see Alliance of Wimpiness by Mark Fiore.
November 30, 2006 Comments Off on Bad Ideas
Being a Democratic voter in my neck of the woods is a lonely job, but according to Bark Bark Woof Woof the number of Democrats in Florida is likely to rise considerably, thanks to Rep. Tom Tancredo (R-CO).
Calling Miami a third-world city because of all of the foreigners living there and complaining about the appointment of Florida Senator Mel Martinez to head the RNC, is certainly a novel way of widening the appeal of the Republican Party in Florida. I don't expect he's met the First lady of Florida, or he would have complained about the fact that she is Mexican.
With people like Tancredo speaking publicly for the GOP, the minority status of the Republican Party is solidifying every day.
November 29, 2006 2 Comments
The problem with history is that you have to actually study it to find out how people messed up their lives, countries, and the planet with their stupid decisions so you can avoid repeating their mistakes.
EBD of Anecdotes from a Banana Republic doesn't think the current Lebanese young people stayed awake for history class. She is concerned that people seem to be traveling down the same road that lead to the civil war in the 1970s and 80s.
November 29, 2006 2 Comments
Check Fallenmonk for the strange happenings.
My guess is that the Shrubbery is trying to build a case for the disaster in Iraq being the fault of Maliki. Let's blame the victim is quite popular among people who refuse to admit any responsibility for anything. I don't think Mr. Maliki is ready to sacrifice himself for the Bush legacy.
November 29, 2006 2 Comments
The Associated Press is reporting that: U.S. To Pay $2M For False Terror Arrest.
A lawyer the FBI wrongly arrested after the 2004 Madrid terrorist bombings because of a misidentified fingerprint has settled part of his lawsuit against the U.S. government for $2 million.

Brandon Mayfield, who said he was detained for two weeks in 2004, maintained that he was arrested because of his Muslim faith.
They made the guy's life a living hell and they now have to pay for their incompetence.
This only settles part of the case. He is continuing his suit on the constitutionality of the PATRIOT Act which is at the root of what happened to him.
November 29, 2006 Comments Off on A Little Justice
Thanks to skippy the bush kangaroo for putting up this picture which indicates that Borat is a fan of Discworld. I know about the hat he's wearing: it's only found in XXXX.
This BBC article on the Antikythera Mechanism describes a mechanical calculator from the first century BCE that predicted astronomical events using precision gears. It would be a millennium before we regained that level of technology.
November 29, 2006 6 Comments
It may be my set up, but I am not getting the display of twisted letters that is used to stop spam bots on Blogger comments.  There is only the text "Visual verification" appearing where the graphic should be.
Sorry, Cat Daddy, and Karen, I'll try later.
November 28, 2006 2 Comments
The headline says: Truce declared in peace wreath battle.
DENVER, Colorado (AP) — A subdivision has withdrawn its threat of $25 daily fines against a homeowner who put a Christmas wreath shaped like a peace sign on the front of her home.

Homeowner Lisa Jensen told The Associated Press on Monday that the board of directors of the Loma Linda Homeowners Association had apologized, called the incident a misunderstanding and had withdrawn its request for the wreath's removal.
The Homeowners Association went for the Emily Litella defense, when it became obvious that Ms. Jensen was getting a lot of offers of assistance, including some from people with letters like Esq. LLB, LLD, and JD after their name.
There has been a mini blogswarm on the story, so it wasn't going to disappear, and, apparently, the board was getting calls.
Technically, we wouldn't call this a truce in the military, we would call it "run away!"
November 28, 2006 8 Comments
Another reason not to buy in a "planned community:" Peace on earth? Not in our subdivision!
Some residents who have complained have children serving in Iraq, said Bob Kearns, president of the Loma Linda Homeowners Association in Pagosa Springs [Colorado].

He said some residents believed the wreath was a symbol of Satan. Three or four residents complained, he said.

… [snip]

The association in this 200-home subdivision 270 miles southwest of Denver has sent a letter to her saying that residents were offended by the sign and the board "will not allow signs, flags etc. that can be considered divisive."

The subdivision's rules say no signs, billboards or advertising are permitted without the consent of the architectural control committee.

Kearns ordered the committee to require [Lisa] Jensen to remove the wreath, but members refused after concluding that it was merely a seasonal symbol that didn't say anything.

Kearns fired all five committee members.
November 27, 2006 12 Comments
November 26, 2006 2 Comments
Florida License Plates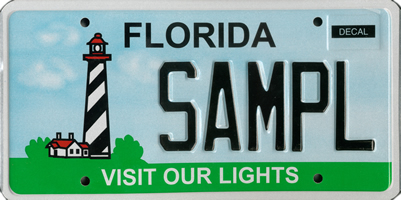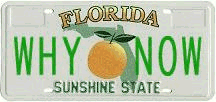 A weekend feature of Why Now.
November 26, 2006 9 Comments
The BBC early this morning was reporting that John Bolton was claiming that Syria was behind the death of Pierre Gemayel, so they could engineer a coup. Ignoring for the moment that John Bolton would be hard pressed to explain the difference between a coup and a coupe, it would have been nice if he had provided some indication as to why he thought this, and why such a claim would come from the recess-appointed UN ambassador and not a State Department official who actually had a brief on Lebanon or the Middle East.
The 'Noz, a student of Arabic and a traveler to the area, shrugged his shoulders, so I checked in with Pierre at Candide's Notebooks who is Lebanese, EDB of Anecdotes from a Banana Republic who lives in Lebanon, Pat Lang of Sic Semper Tyrannis who had responsibility for the area at DIA, and Dr. Cole of Informed Comment, who lived there for years.
Lots of shrugging going on, although Pat Lang did sort of indicate that it might have been Pierre's turn, as assassination has been a frequent cause of death in the Gemayel family.
The problem is trying to figure out who benefits from the death of a minor political figure with a famous name in the fractured political world of Lebanon. There are few truly disinterested parties with the knowledge to unravel the mystery.
November 25, 2006 Comments Off on The Gemayel Assassination