DJHlights of Exit Stage Left is having to shut down his blog. He has been elected to a position with his union and wouldn't be able to speak his mind without having it affect his position.
His articles on the famous and near famous who have played in the theater in Pittsburgh where he was the head electrician and lighting guy, as well as his views on labor issues will be missed. This is a drawback about not being anonymous when you blog.
December 1, 2006 Comments Off on Changes

We made through without a storm. Thank you El Niño, we needed the break.
Unfortunately the El Niño can't stay in place and things will probably revert to conditions more conducive to hurricanes next season and there still has not been much done to improve the survivability of the areas struck by Katrina last year, nor has FEMA finished the clean up from the 2004 season.
I would also like to thank the persistent low pressure system over the Atlantic that sucked those storms that did form to the north, and the African dust storms that interfered with storm formation.
December 1, 2006 6 Comments
Ladies Aid Society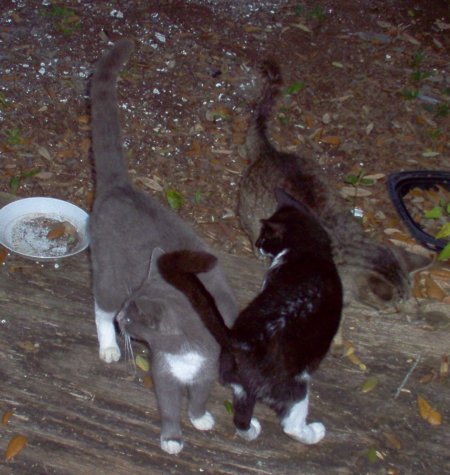 How's it going? How you been keeping? Haven't seen you since morning.
[Editor: These are the core of the pride at my house: Tonto, the Lone Ranger, and Mrs. D renewing scent recognition by rubbing cheeks with each other.]
December 1, 2006 7 Comments