Over at Bark Bark Woof Woof Mustang Bobby ran his standard Sunday Reading article, but this time he quoted the poem, A Visit from Saint Nicholas by Clement Clark Moore.
When you see the Santa impersonators loitering around at this time of year consider these lines:
…

When, what to my wondering eyes should appear,
But a miniature sleigh, and eight tiny reindeer,
With a little old driver, so lively and quick,
I knew in a moment it must be St. Nick.

…

He was chubby and plump, a right jolly old elf,
And I laughed when I saw him, in spite of myself;

…
Do you see anything there that suggests it would be appropriate to hire someone over four-foot tall?  I think not. Another example of height discrimination. No one accepts that elves might be productive under one of their own.  No, they have to be lead by a full-sized human.
December 24, 2006 Comments Off on Job Discrimination

The British have some wonderful Christmas customs that have survived the incursion of Christianity, especially the Puritan party poopers. Stealing customs from the Celts, Germans, and Scandinavians, they have created a wonderful holiday that I fondly remember from time spent there.
The bird is a European robin that is featured on British Christmas cards, as it is a Winter bird in England, unlike the fair-weather laggard of the same name in America. It is bracketed by holly and mistletoe. All go back to the druids and solstice celebrations.
If you read the Harry Potter books you will get a taste, but not the full effect of a British Christmas. A full-on Christmas dinner is wretched excess to the nth degree – Thanksgiving on steroids. Check Elayne's pictures for an idea of what's involved.
Update: The BBC has the background on Father Christmas.
December 24, 2006 2 Comments
Today marks the 100th anniversary of radio broadcasting with the first "program" consisting of O Holy Night played on a violin and readings from the Bible by the Canadian inventor of AM radio, Reginald Fessenden from a station at Brant Rock, Massachusetts.
NPR noted the event: Marking a Radio Centennial .
December 24, 2006 2 Comments
Florida License Plates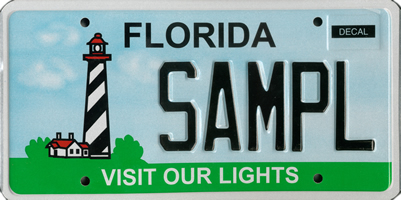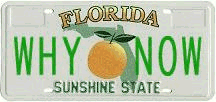 A weekend feature of Why Now.
December 24, 2006 Comments Off on Passing the Plate