Terry at Nitpicker notes that "supporting the troops" doesn't include allowing them to call family and friends during the Holidays because of budget cuts. So he has the link up to donate to a Working Assets program to help out.
December 8, 2006 2 Comments
The Independent News is the alternate weekly for Gulf Breeze / Pensacola area.
Their current cover story is about the book, War of the Words by Craig Myers. The article by Mari Saugier Krueger discusses the Gulf Breeze UFO story. Among UFOlogists, Gulf Breeze is nearly as important as Roswell, even if many people don't want to be reminded of it.
To quote myself: "While newcomers in Gulf Breeze, near Pensacola, have created a hot spot for UFO reports, if an actual alien spacecraft landed in the center of Fort Walton Beach, the police would call Eglin and tell them to remove their latest experiment from the road."
December 8, 2006 2 Comments
Fallenmonk notes the Campbell's Soup Click for Cans campaign. Vote for your favorite NFL team and the winning city gets a Campbell donation to the local food bank. Good cause with a minimal effort.
December 8, 2006 Comments Off on A Worthy Cause
I remembered, but Mustang Bobby does a better job on the post I would have written.
December 8, 2006 Comments Off on John Lennon
Another record cold day down here and I have a head cold that is not helping me deal with it. Tomorrow will also be cold, so we can hope that fleas and other pests will die outside.
December 8, 2006 3 Comments
Cold Cat Cuddle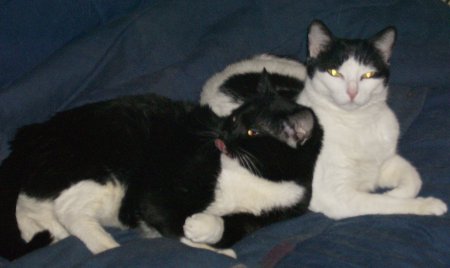 Hey, how about turning up the electric blanket.
[Editor: Dot and Sox don't move far from the comforters when it's cold.]
December 8, 2006 9 Comments