December 5, 2008 Comments Off on Слава Богу
You are not going to win the War On Terror™ or any other conflict with people like this guy in the Australian Broadcasting article: Mumbai gunmen probably still on the loose: US experts
David Kilcullen, who has served as a senior counterterrorism adviser to US General David Petraeus and Secretary of State Condoleezza Rice, said he agreed that were probably more attackers.
…

The fighters had high-level professional training, Mr Kilcullen said.

They entered the city by sea, launched diversionary strikes, and seized two hotels and a Jewish centre, where they held off authorities and rampaged for three days.

"A SEAL team would have had trouble mounting this operation," Kilcullen said, referring to US Navy commandos regarded as among the most skilled special forces.
December 5, 2008 2 Comments
Turn Up The Heat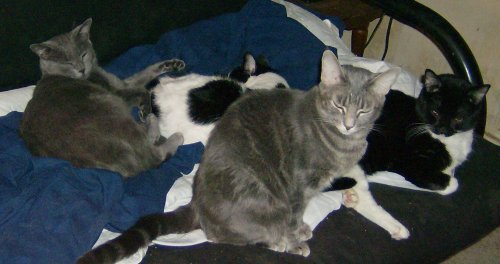 How about a fire?
[Editor: Property joins the 'Old Folks' to share some body heat. She was making her get away when the camera finally took the picture.
December 5, 2008 10 Comments