The CBC reports that Canadian politicians have a deal ready
The federal government and Ontario have reached a deal to offer proportional funds to Canada's auto industry if a proposed $14-billion US aid package is approved in Washington, Industry Minister Tony Clement said Friday.

Speaking to reporters in Toronto, Clement said the proposed aid to Canada's ailing auto sector would amount to approximately 20 per cent of the U.S. proposal, or about $3.3 billion Cdn.
So the Conservative government of Canada gets it, while Senator Bob Corker of Tennessee is opposed to helping US manufacturers. Senator Corker had no problem voting to give hundreds of billions to Wall Street with no strings attached so executives could get their million dollar bonuses, but helping auto workers who actually cost about $28/hour is too much to tolerate.
December 12, 2008 9 Comments
According to MSNBC Tennessee Republican Bob Corker is pivotal deal-maker in Thursday talks
Corker has crafted a separate, three-pronged plan:

It would require the two firms closest to bankruptcy, General Motors and Chrysler, to reduce their debt by two-thirds. Bondholders would have "plenty of incentive to make sure that the debt is reduced by two-thirds" or risk losing even more if the firms go into Chapter 11, where their bonds might be further discounted, Corker said. "We're going to force them into bankruptcy if they don't do this," he said bluntly.
He also would require that the Voluntary Employee Benefit Association, the entity created by the car firms and the UAW to handle retiree health care benefits, accept stock in lieu of half the cash payments due. The carmakers had agreed to fund VEBA but can no longer afford to do so. "If a company goes bankrupt, these future payments are never going to happen anyway," he said.
December 12, 2008 6 Comments
It Snowed In New Orleans!!!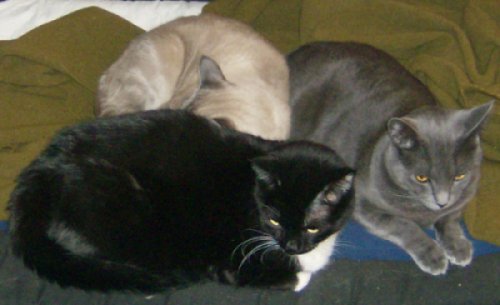 What's snow? …It's probably cold. I'm cold, are you cold?
…Would I put up with you two if I wasn't cold?
[Editor: It's the Boys who are feeling it, as the Girls are on the floor next to the oil radiator. I know that Income really feels it because he is single-coated, unlike Sox and Excise, and he hasn't bulked up for the Winter.
December 12, 2008 11 Comments