New Math?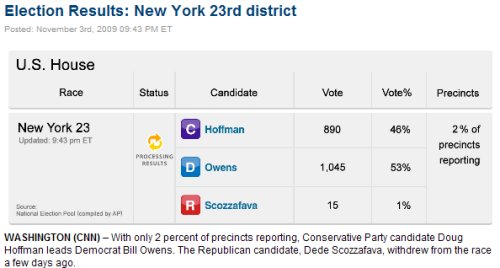 This a screen shot from CNN's results page.
For some reason whoever is writing the blurbs isn't reading the results, or doesn't understand that larger numbers are better than smaller numbers.
When I checked a little later, 21% of the precincts reporting and the percentages were: Hoffman 43%, Owens 52%, and Scozzafava 5%.
It makes a lot of difference where the results are from, as the more rural districts tend to be more conservative than the towns.
Update: It looks like Obama lost in New Jersey and Virginia, but the special election in NY was a matter of local issues. It must be that way, because all of the pundits are saying it. 😈