According to the Bradenton Herald: Study: Fla. tax system one of least fair
If you are a Florida resident with low to moderate income, you are paying a disproportionate amount of state and local taxes.

So says a nationwide study of state tax systems that shows Florida has the second worst tax system in the U.S. in regards to fairness.

Florida families in the lowest income group — $10,500 a year — pay an average of 13.5 percent of their income in state and local taxes as compared with families in the highest income group — $2.4 million a year — who pay an average of 2.1 percent of their incomes in taxes. Moderate income people — those making $37,400 a year — pay an average of 9 percent of their income in taxes, according to a report by the Institute on Taxation and Economic Policy based in Washington, D.C.
The Florida sales tax, currently 6%, is designed to tax things that poor people need to buy, while exempting many things that the wealthy buy. Go to a ball game and the common people in the bleachers pay sales tax on their tickets, but not the important people in the sky boxes.
However, as Dan Gelber, Democratic candidate for attorney general, notes Florida is first in the number of public officials charged with corruption, which I'm sure annoys Alabama. [Via Hipparchia]
November 20, 2009 5 Comments
The Follower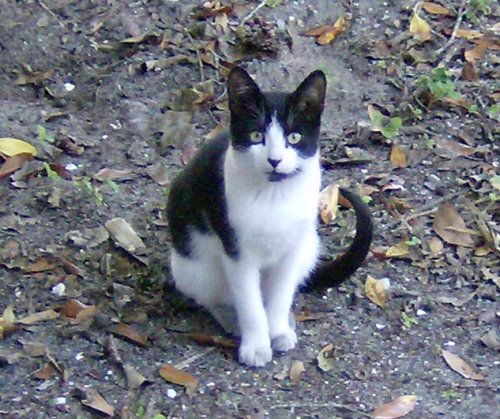 Cheese?
[Editor: Adolf has become much calmer since he stopped hanging around with Lucrezia full-time. He isn't exactly friendly, but he is no longer in full "Axe Murder" mode when he sees me.
Note that the site with be down for maintenance from 11AM to 5PM CST [1700 – 2300 UTC] today, Friday November 20th.
November 20, 2009 11 Comments