Apparently it is perfectly acceptable to put G-d before country, as long as you don't say Allah.
Money is not supposed to buy happiness, but having it is apparently enough to avoid the wait for scarce resources.
On the standard Friday politics round-up with E.J. Dionne and David Brooks, NPR host Michele Norris was apparently seriously concerned that Obama's promise of bi-partisanship isn't working out . Honestly, she sounds like she thinks this will be a problem for Democrats.
The super-patriotic Republican leadership [now, with even bigger flag pins] apparently doesn't know the difference between the Declaration of Independence and the preamble to the Constitution. They also can't remember the Pledge of Allegiance. I wonder what the lead level is like in the Capitol's water supply?
November 6, 2009 11 Comments

Position: 16.2 N 84.0 W [ 9 PM CST 0300 UTC].
Movement: North [360°] near 7 mph [11 kph].
Maximum sustained winds: 35 mph [55 kph].
Wind Gusts: 45 mph [70 kph].
Minimum central pressure: 1006 mb ↓.
It is inland 110 miles [175 km] East-Northeast of Limon Honduras.
Here's the link for NOAA's latest satellite images.
[For the latest information click on the storm symbol, or go to the CATEGORIES drop-down box below the CALENDAR and select "Hurricanes" for all of the posts related to storms on this site.]
November 6, 2009 Comments Off on Tropical Depression Ida – Day 3
Chilly Nap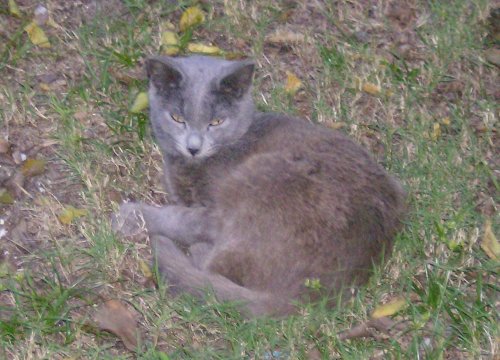 I want a sweater!
[Editor: The sun moved while Not-Ringo was sleeping, and his companions left without telling him. In the fading light and shade, he actually blends in to near invisibility.
November 6, 2009 12 Comments