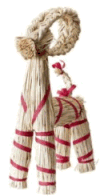 Once again, Why Now? is pleased to present the link to the webcam of Gävlebocken, The biggest Christmas Goat in the world [now with a blog].
From Steve Bates of Yellow Something Something in the comments from 2006:
Why build a giant goat of straw,
Which most of us would scarcely note?
Some, though, defy the very law,
To vandalize the Gävle Goat.

In some years, they used wayward cars;
In others, flaming arrows smote.
This year's survives, although with scars…
A fact that gets some people's goat.

A webcam and some watchful eyes,
A flame-retardant second coat,
Should save it… unless Dubya spies
The thing, and claims it's his pet goat!

– SB the YSS
November 27, 2009 Comments Off on Mer Jul i Gävle

Yes, it's the time of year when the Sun dies and must be re-born through an elaborate ceremony that involves some form or type of sacrifice, such as finding gifts for people you can't stand and smiling brightly as you receive yet another gift based on an urban legend that you actually like truly stomach-wrenching color combinations.
Of course there was a time when the Solstice sacrifices were more visceral and the evergreen was covered in things that pleased only ravens and such, but we have put all that behind us by opting for the possibility of electrocuting one another and causing chaos on the power grid.
What a brilliant idea: moving a large supply of pre-kindling soaked with highly flammable resins into your house, loading it down with petrochemical-based ornaments, lacing it with heat-producing electrical devices, and surrounding the base with cardboard boxes and tissue paper. You just can't have a traditional celebration without a proto-bonfire in your living room.
I do think that followers of Mithras might want to curtail their typical birthday service in light of Mad-Cow Disease, but global warming will certainly make the services in the oak wood in traditional druidic robes more comfortable.
November 27, 2009 Comments Off on Happy NODWISH™
The Skeptic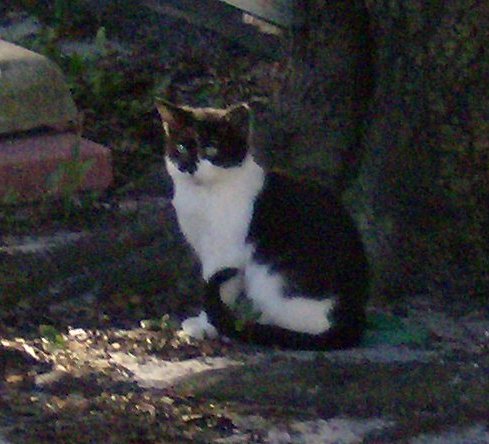 One more step and…
[Editor: Vinnie is still in full "Axe Murder" mode when he sees me. This is not a good picture because it is cropped at full resolution, while most pictures are cleaned up on reduction. I am well away from him, but he is still on alert for any move in his direction.]
November 27, 2009 6 Comments