Except English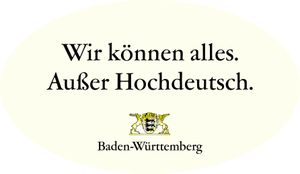 I came across this public service advertising sticker from the German state of Baden-Wüttemberg, which the home of the Black Forest.
It says: We can speak everything – except standard German.
Germany has a standard form of the language, Hochdeutsch, that is taught in school and ignored outside of the media. "High German" doesn't appeal to Southerners.
When people talk about English being the standard language in the US, I would ask "Whose English?" because the language certainly isn't standardized. If you take someone from the south side of Boston and drop them in a Louisiana parish, you'd better include a translator.
Like most things, language grows or it dies.
One of the biggest problems we face in intelligence gathering is the lack of bi-lingual Americans. The "enemy" doesn't have to learn encryption because Americans can't understand their language. Foreign language study should be a national security asset, not a reason to discriminate.
[Edit to correct translation.]