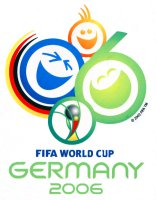 From June 9th to July 9th football teams from 32 nations will vie for the world's biggest sports prize: the FIFA World Cup. This quadrennial event is more important and followed by more people than any other sports series, even though it is almost totally ignored in the United States.
If you have an interest you can follow action at the FIFA site, Reuters, the BBC, New Zealand, Australia, and Canada.
The American media might deign to post an occasional story, but ignore them: they don't understand the sport, or its importance.
June 6, 2006 6 Comments
"Over sixty years later, the Normandy invasion, codenamed Operation Overlord, still remains the largest seaborne invasion in history, involving almost three million troops crossing the English Channel from England to Normandy in then German-occupied France."
The BBC has an article in their On This Day series and a Flash animation of the Allied landings.
June 6, 2006 Comments Off on D-Day, 1944
Via Maru a massive collection of stuff on "the Mark of the Beast".
Uncle Al on the News groups had a similar collection up years ago, but this includes some light scholarly musings at the end that point to Sir Tim Berners-Lee as the Beast.
June 6, 2006 Comments Off on 666