Several Florida Congresscreeps have sold out the state and supported a law to open coastal waters to oil drilling. Led by Cruella de Harris's cousin, "Howdy Doody" look-alike Adam Putnum and California's "Pollution" Pombo, CBS reports that: House OKs End To Offshore Drilling Ban.
Of course, since this is a move that will devastate the coastal region of Florida's first Congressional district, but not affect his income from the family agribusiness, Jeff Miller voted to pour oil all over our beaches and interfere with local military bases.
Naturally, JEB Bush thinks it's a great idea.
Congressional Republicans – a wholly owned subsidiary of Exxon.
Update: the Pensacola Beach Blogger expresses his dissatisfaction and provides more details.
Robert C. at Interstate 4 Jamming updates his post with the names of the traitors, including one Democrat, Allen Boyd of district 2. Miller and Boyd together represent the entire coastline of the Panhandle. The pair should be boiled in oil until it reaches a tar-like consistency, at which point we can add the feathers.
Even Cruella knew better than to vote for this.
June 30, 2006 11 Comments
June 30, 2006 Comments Off on They're Having A Blirthday
Tai Ringo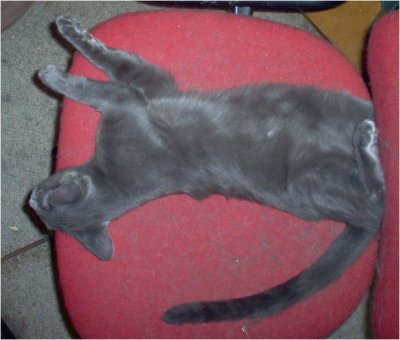 I'm practicing. No pictures.
[Editor: Ringo attempts another of Sox's sleeping positions, but is unsure what to do with her tail.
Update: It's apparently genetic with gray [blue] cats in response to red chairs.
June 30, 2006 9 Comments