Posts from —
December 2006
I realize that I'm not part of a "professional media organization", like CNN, but I would like to think I would have noticed a problem with the QuickVote question posted at 10:01PM EST:
"Do you think driving would be safer with less rules of the road?"
Even the grammar checker in Word noticed.
December 26, 2006 3 Comments
Posting over at Crooks and Liars, Barbara O'Brien reports in Next: Bread and Circuses, that as much as $2 billion may have been wasted in the response to hurricane Katrina.
Scout of First Draft has been following this story since the hurricane struck and she reports on one of the problems with debris removal.
FEMA signed a contract for debris removal that pays $23/cubic yard, but by the time it went through multiple layers of subcontractors, the people who are actually removing the debris are making $3/cubic yard. That is absurd. How can someone who has no experience with debris removal win a major government contract for the service? Why is a company from New Jersey doing the actually removal, when there are companies along the Gulf Coast who do this all the time, and they needed work after the hurricane?
December 26, 2006 2 Comments
Would You Believe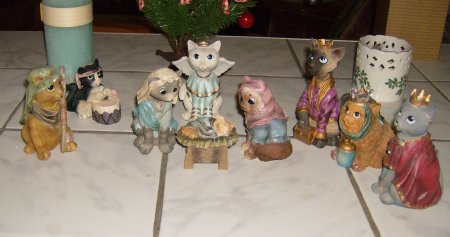 Some people associate me with cats?
This is an actual gift I received this year. I have to say I wasn't expecting it.
December 26, 2006 13 Comments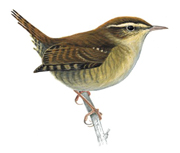 While December 26th is celebrated by a lot of people in the US in shopping malls returning gifts or taking advantage of inventory clearance sales, there are other celebrations.
It is the first day of the Kwanzaa celebration, which is explained at the link.
It is Boxing Day, a celebration of noblisse oblige when the upper classes bestow gifts on the lower and the contents of the poor boxes are distributed. Under the feudal system this was part of the "contract," the mutual system of obligations that tied the system together.
As the feast of St. Stephen it honors the first Christian martyr, but Ireland's Saint Stephen's Day celebration is a bit different and is the reason for the wren on this post.
However, this post is really my complaint about "Good King Whatshisface."
December 26, 2006 6 Comments
A very merry Christmas to all who observe the holiday. I hope you got what you need, which is always better than what you want.
I guess I should say happy birthday to Mithras, just so I don't annoy my friends who are into that sort of thing. I would have thought that Mad Cow Disease would have have reduced the number who practice the traditional celebration.
Eat, drink, and be merry, for tomorrow is one of the worse days of the year to need to go to a shopping area.
Oh, I was planning to have one of those "cute" pictures of Dot and Sox in Santa hats, but that was not to be. See Friday Cat Blogging for the reason.
December 25, 2006 7 Comments
Over at Bark Bark Woof Woof Mustang Bobby ran his standard Sunday Reading article, but this time he quoted the poem, A Visit from Saint Nicholas by Clement Clark Moore.
When you see the Santa impersonators loitering around at this time of year consider these lines:
…

When, what to my wondering eyes should appear,
But a miniature sleigh, and eight tiny reindeer,
With a little old driver, so lively and quick,
I knew in a moment it must be St. Nick.

…

He was chubby and plump, a right jolly old elf,
And I laughed when I saw him, in spite of myself;

…
Do you see anything there that suggests it would be appropriate to hire someone over four-foot tall?  I think not. Another example of height discrimination. No one accepts that elves might be productive under one of their own.  No, they have to be lead by a full-sized human.
December 24, 2006 Comments Off on Job Discrimination

The British have some wonderful Christmas customs that have survived the incursion of Christianity, especially the Puritan party poopers. Stealing customs from the Celts, Germans, and Scandinavians, they have created a wonderful holiday that I fondly remember from time spent there.
The bird is a European robin that is featured on British Christmas cards, as it is a Winter bird in England, unlike the fair-weather laggard of the same name in America. It is bracketed by holly and mistletoe. All go back to the druids and solstice celebrations.
If you read the Harry Potter books you will get a taste, but not the full effect of a British Christmas. A full-on Christmas dinner is wretched excess to the nth degree – Thanksgiving on steroids. Check Elayne's pictures for an idea of what's involved.
Update: The BBC has the background on Father Christmas.
December 24, 2006 2 Comments
Today marks the 100th anniversary of radio broadcasting with the first "program" consisting of O Holy Night played on a violin and readings from the Bible by the Canadian inventor of AM radio, Reginald Fessenden from a station at Brant Rock, Massachusetts.
NPR noted the event: Marking a Radio Centennial .
December 24, 2006 2 Comments
Florida License Plates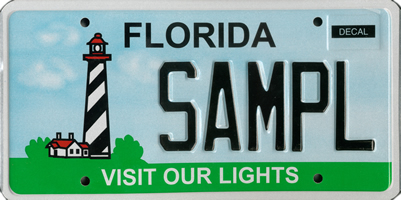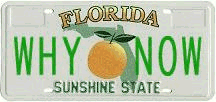 A weekend feature of Why Now.
December 24, 2006 Comments Off on Passing the Plate
From The Times [the real one in London, you've seen their font]:
Christians in the Middle East are being put at unprecedented risk by the Government's "shortsighted" and "ignorant" policy in Iraq, The Archbishop of Canterbury, Dr Rowan Williams, says today.

[snip]

Dr Williams, writing in today's Times, says that one prediction that was systematically ignored was that Western military action would put the whole of the Middle East's Christian population at risk.

[snip]

Dr Williams, who is visiting Israel with Cardinal Cormac Murphy-O'Connor, Archbishop of Westminster, Bishop Nathan Hovhannisian, the Armenian Primate of Britain and David Coffey, the head of the Baptist World Alliance, returns to Britain today with a call for all British churches to take action to raise the profile of Christians in the Middle East. Dr Williams said yesterday that the Israeli-built wall around Bethlehem symbolised what was "deeply wrong in the human heart".
The little town of Bethlehem was a majority Christian location until the last decade. After centuries surrounded by Muslims, Christian families have left because there is no longer anyway to make a living in the town. Once an important destination for pilgrims and tourists, the quest for "security" has made it extremely difficult reach.
I guess the Archbishop is another "hippie" who can't be trusted because he was right.
December 23, 2006 Comments Off on Enough To PO The Archbishop of Canterbury
Yes, today was the celebration of the very untraditional Festivus.
If you celebrate I hope all of your grievances were aired and the airing did not involve the Festivus pole being used in an inappropriate fashion.
December 23, 2006 6 Comments
I generally listen to The Festival of Nine Lessons and Carols at the chapel of King's College, Cambridge every year, but there is no way I would wait 32 hours in line to see it in person.
It is a very nice traditional service that embodies the Christmas season, but I can't believe someone had 32 hours available at Christmas to wait outside in a Cambridge winter.
December 23, 2006 3 Comments
Not going to happen, the Shrubbery says so.
This story from the Associated Press is just about routine "testing": Official: Agency testing machine, but draft not imminent.
WASHINGTON (AP) — The Selective Service System is planning a comprehensive test of the military draft machinery, which hasn't been run since 1998.

The agency is not gearing up for a draft, an agency official said Thursday. The test itself would not likely occur until 2009.

Meanwhile, the secretary for Veterans Affairs said that "society would benefit" if the U.S. were to bring back the draft and that it shouldn't have any loopholes for anyone who is called to serve. Secretary Jim Nicholson later issued a statement saying he does not support reinstituting a draft.
It's just a coincidence that the Shrubbery talks about increasing the size of the military, the VA head waxes nostalgic about the draft during Vietnam, and then a test of the Selective Service System is announced. There are no trial balloons being launched.
"Nope, not going to do it. Wouldn't be prudent."
December 22, 2006 4 Comments
I have been unable to get to the BBC News site all night. I can get to the main site, www.bbc.co.uk, but when I try to go to the News site, it just times out without connection. It is really annoying and there is no indication that anyone else has noticed.
December 22, 2006 4 Comments