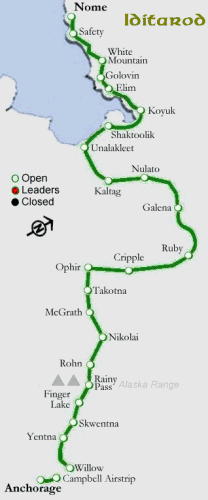 The people who have completed their 24-hour layover are back in front, while the people who delayed it are on theirs.
There is an 8-hour layover that has to be taken on the Yukon, so things will even out. At Ruby are the top three finishers at the Yukon Quest this year, Hans, Lance, and Hugh, as well as Jeff and Mitch who have proved they know how to win this race. There has been some snow in the area, so there will be some trail-breaking that will be more work for the dogs on the leading team, but the temperature is back down in the dog comfort region. Currently [9AM local, Noon CST] in Ruby there is light snow and an invigorating -26°F [-32°C].
At Galena
1 Jeff King (15)
Beyond Ruby
2 Lance Mackey (49)
3 Hugh Neff (56)
4 Mitch Seavey (41)
5 Hans Gatt (20)
6 Sonny Lindner (44)
7 Sebastian Schnuelle (35)
8 Ken Anderson (51)
9 John Baker (8)
March 12, 2010 2 Comments
Slumming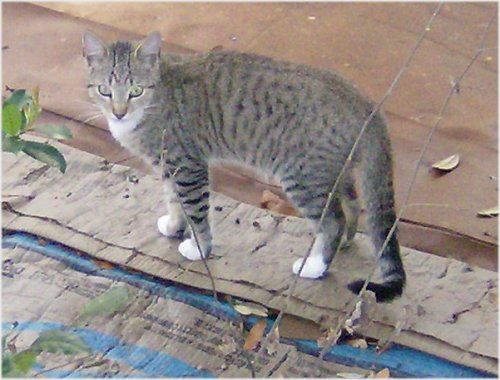 What was that?
[Editor: This little juvenile has been by a couple of times. I think she is getting out and having a walkabout. She avoids the ferals. She wondered what the flash was, as I wondered why the camera thought it was necessary.]
March 12, 2010 10 Comments