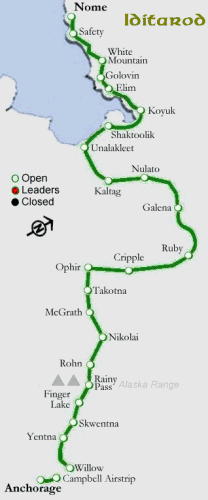 The Red Lantern is at White Mountain Nome so the three to four marathons a day the puppies have been running are about over.
Scott White stopped at Safety. That doesn't normally happen, 22 miles from the end, so I hope he doesn't have a problem this close to the end. He left White Mountain with only 7 dogs on his team, so he is on the edge. [Scott moved on, but the Scot, John Stewart felt he had to scratch at White Mountain in the best interests of his 7 dogs. 🙁 ]
While Jane Faulkner arrived a half hour before Celeste, I suspect she will wait until Celeste can leave to finish the race. [Jane waited, as I expected.]
There are light winds, scattered snow, and temperatures in the twenties, so it will be a pleasant spring day, for Nome, to finish the race.
At Nome
45 Wattie McDonald (4)R
46 Lachlan Clarke (63)
47 Newton Marshall (14)R
48 Billy Snodgrass (70)
49 Trent Herbst (60)
50 Chris Adkins (33)R
51 Dave DeCaro (52)R
52 Ross Adam (18)
53 Jane Faulkner (22)R
54 Scott White (13)R [16 hours to travel 22 miles]
55 Celeste Davis (58)R Φ 8:06PM local
At White Mountain
56 John Stewart (69)R [Scratched only 77 miles from his goal]
March 20, 2010 2 Comments
It's that time of year. Spring arrives at 12:32PM CDT this afternoon. You can watch it come at Archæoastronomy.
The air is already filled with pollen and the live oaks are starting to drop last year's leaves.
March 20, 2010 6 Comments