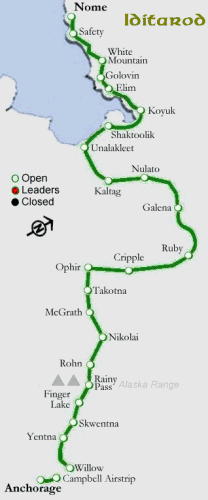 The field is smaller this morning. The Anchorage Daily News has reported on four more scratches at Rainy Pass, in addition to Pat Moon. Michael Suprenant and Zoya DeNure both have medical problems, Karin Hendrickson has a busted sled, and Kirk Barnum scratched because his dogs were too tired to race.
Zoya, along with Colleen Robertia, run "rescues, runts, and rejects" on their teams, and it's a shame that the dogs can't do what they have spent months training for.
Kirk is from Seeley Lake, Montana, and his dogs just didn't like the trail. He had already dropped 4 dogs when he decided to scratch. It's a long drive from Seeley Lake, and the dogs apparently didn't acclimate to the new conditions.
The area around Rainy Pass eats sleds and mushers, especially without a lot of snow as a cushion. Generally the sleds don't track well and slide into trees and boulders.
Jeff King took the Spirit Award for being the first into McGrath, but it is Hans Gatt, the current Quest winner, who is Ophir at the lead this morning.
The mass of teams at Takotna are taking their mandatory 24-hour stop.
Current standings [11:00PM CST] below the fold:
March 10, 2010 Comments Off on Iditarod – Day 5
The Anchorage Daily News is reporting that rookie musher Pat Moon (17) of Chicago had to be medevaced to Anchorage after crashing on the trail from Rainy Pass to Rohn in the notorious Dalzell Gorge.
The Iditarod site is reporting that Sam Deltour (66), a med student from Belgium when he isn't running dogs, came upon Moon and provided assistance.
Moon's team was uninjured and was also airlifted out.
This is an example of what happens when there isn't enough snow on the trail for the sled to "bite" the trail and steer. Because you are going down, you need to be able to slow the team down, which also requires snow.
The official reporting will carry him at Rainy Pass, which is the last check point he made. Moon had delayed getting chemotherapy for a chronic condition to be in shape for the race.
March 10, 2010 2 Comments
I received a noticed that the Census Bureau will be sending out the forms in about a week. At the bottom of the notice they had instructions directing you to their 'Net site, 2010census.gov, in six languages: English, Spanish, Chinese, Korean, Vietnamese, and Russian.
While that is an odd choice for the nation in general, it does reflect the languages used in this area. I wonder if people in other areas get different choices, i.e. Greek in Central Florida, Portuguese in Massachusetts, French along the border with Quebec and in major East Coast cities?
BTW, I'm dealing with the health care establishment locally, and am out and about most days. I'm keeping up with the race, but have little time to respond on other blogs.
When things let up, I want to write about the joys of electronic medical records and how they are actually being used, rather than how we are told they are being used to save money.
March 10, 2010 13 Comments