The Florida Senate has teed up another sound-bite-for-re-election bill: Florida senate wants balanced federal budget.
If the US government actually had a balanced budget, the state of Florida would be in total meltdown. The only way they achieved a balanced budget last year was with the stimulus money from the Feds, and if the Feds can't run deficits every minor recession will be a nightmare for state governments.
If the IQs get much lower they are going to be required to water the Florida legislature. They provide their own fertilizer.
March 16, 2010 2 Comments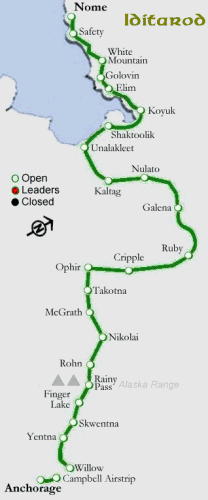 Lance Mackey will leave White Mountain this morning with a two hour lead over Hans Gatt in the sprint to Nome. Jeff King will be 20 minutes behind Hans. Lance has one fewer dog on his team than the dozen on the teams of Hans and Jeff, but that's not much of an advantage for the final 77 miles of the race. Barring a disaster the winner will be known this afternoon. It is mostly cloudy and -7°F [-22°C] in Nome.
At the back, Emil Churchin scratched at Ruby when his team decided it wasn't worth the effort. There are currently 57 teams competing with Hank Debruin the heir presumptive for the Red Lantern.
Lance made it to Nome at 2:59PM and Hans showed up an hour and five minutes later. With this win, Lance becomes the first musher with win the race in four consecutive years. Lance's race time was 8 days, 23 hours, 59 minutes, and 9 seconds, the second fastest time for the race.
At Nome
1 Lance Mackey (49)
2 Hans Gatt (20)
Beyond Safety
3 Jeff King (15)
March 16, 2010 6 Comments