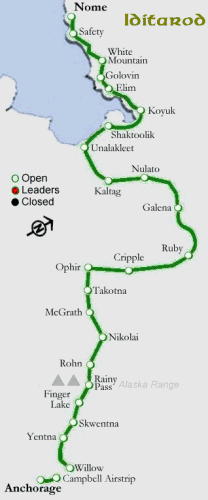 Looks like Ross Adam decided to get some extra sleep [or needed an extra lantern] and went to the back. Wattie has all 16 puppies at White Mountain [is there single malt involved in the puppies' happiness?]. The Iten family has its newest Iditarod veteran. Kristy Berington gets to unbend after leaning her 6-foot frame over the sled for two weeks [tall is not good in mushing unless you can afford a custom sled]. Sam Deltour can go to med school in Belgium knowing he is one of a handful of people who has finished the Quest and Iditarod in the same year.
The race is confined to the north coast of the Norton Sound and should be over tomorrow.
At Nome
24 Jim Lanier (43)
25 Bruce Linton (65)
26 Michael Williams, Jr. (59)R
27 Michelle Phillips (36)R
28 Peter Kaiser (67)R
29 Thomas Lesatz (62)
30 Gerald Sousa (48)
31 Robert Nelson (32)
32 Jason Barron (71)
33 William "Middie" Johnson (16)R
34 Matt Hayashida (12)
35 Allen Moore (54)
36 Colleen Robertia (61)R
37 William Pinkham (40)
38 Quinn Iten (28)R
39 Kristy Berington (38)R
40 Cindy Gallea (39)
41 Sam Deltour (66)
42 Blake Freking (11)
43 Tamara Rose (26)R
44 Art Church, Jr (24)
45 Wattie McDonald (4)R [with all 16 puppies!]
46 Lachlan Clarke (63)
47 Newton Marshall (14)R
March 19, 2010 10 Comments
A Moocher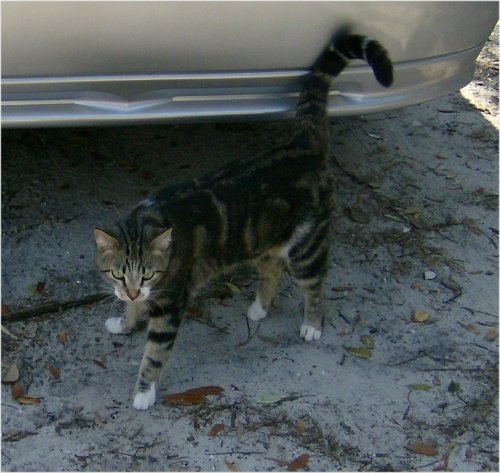 Oh, Hi! Will dinner be soon?
[Editor: I know who this young lad belongs to, and she won't be pleased to have to come over and collect him again. He is a clever young thing and manages to get out about once a month to see if the food is better elsewhere.]
In Memoriam
Samantha, beloved friend of Steve and Stella.
March 19, 2010 7 Comments