Iditarod – Day 14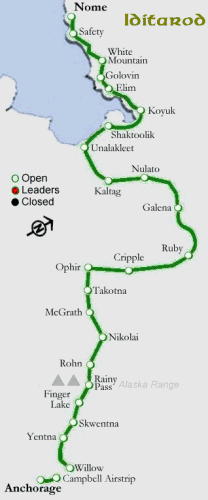 Looks like Ross Adam decided to get some extra sleep [or needed an extra lantern] and went to the back. Wattie has all 16 puppies at White Mountain [is there single malt involved in the puppies' happiness?]. The Iten family has its newest Iditarod veteran. Kristy Berington gets to unbend after leaning her 6-foot frame over the sled for two weeks [tall is not good in mushing unless you can afford a custom sled]. Sam Deltour can go to med school in Belgium knowing he is one of a handful of people who has finished the Quest and Iditarod in the same year.
The race is confined to the north coast of the Norton Sound and should be over tomorrow.
At Nome
24 Jim Lanier (43)
25 Bruce Linton (65)
26 Michael Williams, Jr. (59)R
27 Michelle Phillips (36)R
28 Peter Kaiser (67)R
29 Thomas Lesatz (62)
30 Gerald Sousa (48)
31 Robert Nelson (32)
32 Jason Barron (71)
33 William "Middie" Johnson (16)R
34 Matt Hayashida (12)
35 Allen Moore (54)
36 Colleen Robertia (61)R
37 William Pinkham (40)
38 Quinn Iten (28)R
39 Kristy Berington (38)R
40 Cindy Gallea (39)
41 Sam Deltour (66)
42 Blake Freking (11)
43 Tamara Rose (26)R
44 Art Church, Jr (24)
45 Wattie McDonald (4)R [with all 16 puppies!]
46 Lachlan Clarke (63)
47 Newton Marshall (14)R
Beyond Safety
48 Billy Snodgrass (70)
Beyond White Mountain
49 Scott White (13)R
50 Trent Herbst (60)
51 Chris Adkins (33)R
At White Mountain
52 Dave DeCaro (52)R
53 John Stewart (69)R
Beyond Elim
54 Ross Adam (18)
At Elim
55 Jane Faulkner (22)R
56 Celeste Davis (58)R
The Mushers in bold are former winners of the Iditarod, the numbers in parentheses are their Bib numbers, and the small "R" indicates a rookie.
Note: This post will be updated during the day, and the map changed on all posts to reflect the current situation.
All posts on the Iditarod can be seen by selecting "Iditarod" from the Category box on the right sidebar.