Iditarod – Day 13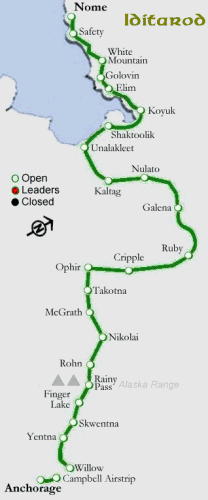 Dan Kaduce is the first rookie at Nome, and Jim Lanier proves you can do this at 69 years of age.
Cim Smyth and the persistent half dozen made it and moved up several places in the process. Wattie McDonald still has all 16 of the dogs that started, and Colleen Robertia is at White Mountain with 14 of her "3Rs" still ready to run. Blake Freking is down to 11 Siberians.
At the back Celeste Davis handed Jane Faulkner the Red Lantern, but it was only a matter of a minute, and it is highly likely that they will settle the issue after Safety with their own race.
At Nome
15 Jessie Royer (6)
16 Aliy Zirkle (50)
17 Sven Haltmann (42)
18 Sonny Lindner (44)
19 Paul Gebhardt (7)
20 Rick Swenson (57)
21 Dan Kaduce (64)R
22 DeeDee Jonrowe (31)
23 Cim Smyth (3)
24 Jim Lanier (43)
25 Bruce Linton (65)
26 Michael Williams, Jr. (59)R
27 Michelle Phillips (36)R
28 Peter Kaiser (67)R
29 Thomas Lesatz (62)
30 Gerald Sousa (48)
31 Robert Nelson (32)
32 Jason Barron (71)
33 William "Middie" Johnson (16)R
34 Matt Hayashida (12)
35 Allen Moore (54)
36 Colleen Robertia (61)R [14 "runts, rejects, rescues"]
Beyond Safety
37 William Pinkham (40)
38 Quinn Iten (28)R
Beyond White Mountain
39 Kristy Berington (38)R
40 Cindy Gallea (39)
At White Mountain
41 Blake Freking (11)
42 Sam Deltour (66)
Beyond Elim
43 Art Church, Jr (24)
44 Tamara Rose (26)R
45 Lachlan Clarke (63)
46 Newton Marshall (14)R
47 Wattie McDonald (4)R
At Elim
48 Billy Snodgrass (70)
Beyond Koyuk
49 Chris Adkins (33)R
50 Scott White (13)R
51 Trent Herbst (60)
At Koyuk
52 Dave DeCaro (52)R
53 John Stewart (69)R
54 Ross Adam (18)
Beyond Shaktoolik
55 Jane Faulkner (22)R
56 Celeste Davis (58)R
The Mushers in bold are former winners of the Iditarod, the numbers in parentheses are their Bib numbers, and the small "R" indicates a rookie.
Note: This post will be updated during the day, and the map changed on all posts to reflect the current situation.
All posts on the Iditarod can be seen by selecting "Iditarod" from the Category box on the right sidebar.