November 10, 2010 Comments Off on Cat Food Commission …
This is for all of the people who have complained that liberals-progressives are too negative about Obama.
Via Sean Paul, Stephanie Vallejo of the Boston Globe noted from the CBS 60 Minutes interview that President Obama compares his health care plan to Romney's
"We thought that if we shaped a bill that wasn't that different from bills that had previously been introduced by Republicans, including a Republican Governor in Massachusetts who's now running for President, that we would be able to find some common ground there," said Obama. "And we just couldn't."
OK, now that Obama has told you that he introduced the Dole-Romney health care bill that was edited by a Wellpoint vice president, rather than a Democratic plan, do you see why people are angry. Again, you don't work for Democratic candidates and provide them with majorities in both houses of Congress and the White House so they can pass Republican plans.
This wasn't a compromise, this was a surrender, and the Republicans wouldn't even accept the surrender.
November 10, 2010 7 Comments
United States Marine Corps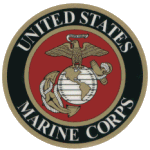 1775
November 10, 2010 Comments Off on Happy Birthday