Dr. Krugman was a bit disconcerted to discover the phenomenon of Math Rage, people upset with him because he expected them to do simple math to understand what he was talking about.
He encountered one possible explanation in his comments in the form of Jihadist Economics, proving that the zero lower bound is really about the imposition of Sharia law.
Then he discovered that he was part of the new Axis of Evil™ in Evil Personified.
While I could go on about why people who base their worldview on belief don't like numbers much. Numbers don't care what you believe, the answer will be the same for atheists and Christians, but Badtux highlights the real answer with a YouTube clip.
November 2, 2010 12 Comments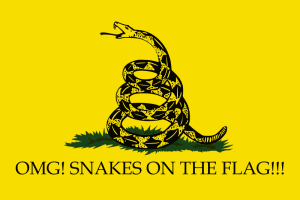 The Pensacola News Journal blows their headline, but the information is interesting: 2.9 Floridians voted early or by mail
[Secretary of State Dawn] Roberts noted that more than 1 million Floridians voted early this year (another 1.9 million voted by mail), but she declined to predict turnout, or whether it would top the 66 percent mark reached in 1994, the record for a non-presidential year.
You have to understand that Florida elects its top state offices on mid-term years, so a large turnout isn't unreasonable or unexpected especially when a Senate seat is also up for election.
The polls are open until 7:00PM CDT [8PM EDT] in the Panhandle, so the results won't be out for while, and there is still time to vote if you haven't. Even if you hate everyone running, there are constitutional initiatives that need to be supported or stopped, since you can't depend on the legislature to actually work for the citizens.
My Mother had no problems voting today, although she hated using the ramp. Even though two precincts vote at the town hall, there were far more workers than voters at 1PM and they did open the doors.
November 2, 2010 Comments Off on Election Day

Position: 13.7N 75.1W [10 PM CDT 0300 UTC].
Movement: West [280°] near 8 mph [13 kph].
Maximum sustained winds: 40 mph [ 65 kph].
Wind Gusts: 50 mph [ 80 kph].
Tropical Storm Wind Radius: 105 miles [165 km].
Minimum central pressure: 1006 mb.
Currently about 385 miles [620 km] South-Southwest of Port au Prince, Haiti and about 320 miles [510 km] South-Southeast of Kingston, Jamaica.
A Hurricane Watch is in effect for Jamaica.
The storm lost ground this afternoon but is still expected to spin back up and restrengthen.
Here's the link for NOAA's latest satellite images.
[For the latest information click on the storm symbol, or go to the CATEGORIES drop-down box below the CALENDAR and select "Hurricanes" for all of the posts related to storms on this site.]
November 2, 2010 Comments Off on Tropical Storm Tomas – Day 5