Reality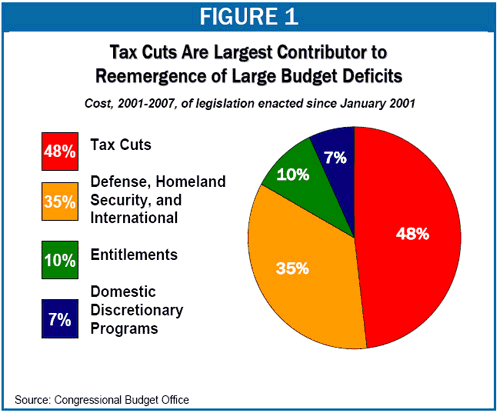 The Center on Budget and Policy Priorities takes on Tax Cuts: Myths and Realities. Using Congressional Budget Office data they demonstrate that tax cuts are far and away the largest single cause of the deficit, with "security" spending in second place.
The Clinton "surplus" that the Shrubbery gave to the wealthy in tax cuts, was the planned surplus in withholding taxes to pay for the retirements of the Boomers – the Republicans looted the Social Security trust fund.
Reducing taxes, as proposed by the Cat Food Commission, will further increase the deficit, not decrease it. Changing the tax rate on corporation is totally irrelevant as they don't pay taxes under the current system. Google manages to maintain its tax rate at 6% 2.4% by laundering money through Ireland and the Netherlands. Exxon made a $19 billion profit one year and received a tax rebate in excess of $150 million. There is no connection between the corporate tax rate and the rate that corporations actually pay.