The Local Puppy Trainer has the latest twist in the Osprey crash:
HURLBURT FIELD — The commander of the CV-22 Osprey squadron that lost one of its aircraft in a crash last week has been dismissed from his post.

Air Force leadership has lost confidence in Lt. Col. Matt Glover, who headed Hurlburt Field's 8th Special Operations Squadron since May 2011.
First off, Colonel Glover's last assignment before being made squadron commander was training to fly the Osprey, i.e. he had no operational experience with the aircraft before they gave him the job. That is a definite problem when you are trying to command.
Second, it sounds like the preliminary investigation has found something at odds with established policy for training flights, which points towards a 'pilot error' finding. My wild guess would be that the aircraft was flying below the established minimum altitude for a training mission. I say that because that would bring the performance of the squadron commander into question. Commanders are responsible for ensuring that standards are maintained.
For security reasons the military generally doesn't put flight data recorders on its aircraft. If there was a crash in enemy territory the flight data recorders would provide the enemy with a lot of information the military doesn't want them to have. There should be an exception made for the Osprey so it can document what a bad idea the project is.
June 22, 2012 Comments Off on More On The Crash

Position: 44.6N 46.9W [10AM CDT 1500 UTC].
Movement: West-Southwest [255°] near 16 mph [26 kph].
Maximum sustained winds: 45 mph [ 70 kph].
Wind Gusts: 60 mph [ 95 kph].
Tropical Storm Wind Radius: 205 miles [335 km].
Minimum central pressure: 990 mb ↑.
Currently about 335 miles [ 535 km] East-Southeast of Cape Race, Newfoundland.
This is the final advisory on the storm as it has finally noticed that it is cold up there and lost its tropical characteristics.
June 22, 2012 Comments Off on Post-Tropical Cyclone Chris – Day 4
Kitten of Leisure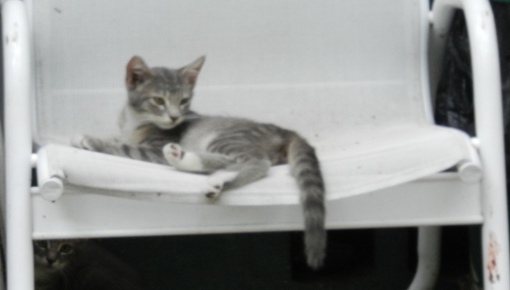 Where's my drink?
[Editor: The lighter of the tabbie kittens naturally assumes that my neighbor's lawn chair was for her convenience – else there wouldn't have been a pad on it.]
June 22, 2012 7 Comments