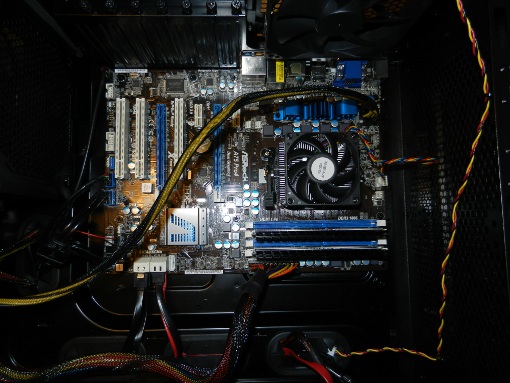 Everything is installed and wired. The monitor should be here tomorrow so I can find out if everything works. I could have used another monitor, but I want to know if the hardware works as it should before I start loading software.
That single cable running across the motherboard is for 12 volt power and it isn't long enough to route any other way, which is annoying because I have routed everything else out of the space. I get a feeling that the power supply manufacturer expected the connection to be located next to the main power connection which is at the bottom of picture.
At least there are no ribbon cables to block airflow.
I'm seeing how things go with the heat sink that came with the processor. If it doesn't take care of the heat, I have another one that definitely will with copper heat risers and a 120mm fan.
June 28, 2012 6 Comments
Posting at Dr Master's place Angela Fritz notes More record-setting heat; Waldo Canyon Fire consumes 15,000 acres
Tuesday's heat toppled many records in the Central U.S., particularly in Colorado, Nebraska, and Kansas. On Monday and Tuesday combined, 11 locations tied or broke their all-time record high temperature, 78 locations broke their all-time record high for the month of June, and 382 daily high records fell. Some notable Tuesday records from our Weather Historian:

115° in McCook, Nebraska is the all-time record for any month. The old records for site are 114° 7/20/1932 and for June 112° 6/5/1933—both set in the heat waves of the 1930s. Yesterday's 115° at Mc Cook also broke the all-time Nebraska state June record of 114° which was set in Franklin in 1936.

105° in Denver, Colorado, ties Monday's all-time record, and ties the 5-day record for number of days above 100°.

101° in Colorado Springs, Colorado is the all-time undisputed record high for any month.

111° in Miles City, Montana is the all-time high for any month.

111° in Lamar, Colorado tied that all-time heat record in any month.

115° in Hill City, Kansas is the new June record, but fell short of all-time 117° reading, and one degree short of Kansas state June record.

110° in Dodge City, Kansas ties the all-time high for any month, which was just set last June.
These fires aren't happening in a vacuum. Climate change has allowed the pine beetle to thrive and kill Western forests. It is responsible for the droughts. It is causing these fierce temperatures. This is what happens when the temperature goes up a couple of degrees for an extended period and nothing is done to address the problem. People die in these fires, and will die in the cities that have to endure these temperatures. The problems won't go away if we ignore them.
June 28, 2012 3 Comments