The race starts on 30 June with a Prologue in Liege, Belgium and will finish on 22 July in Paris, so I thought I should explain some of what I'll be ranting about.

The cartoon characters from my header are wearing the various colored jerseys that indicate the leader in the different classifications in the race.
The Maillot Jaune, Yellow Jersey is worn by the rider with the lowest time overall in the race. The eventual winner of the race may never have come in first in any stage, but was near the lead throughout the race and achieved the lowest time over the entire course of the event. The winner is normally an "all-arounder", someone is very good at the sprints and the hill climbing, even if they aren't the best. Lance Armstrong, Alberto Contador, and Fabian Cancellara are "all-arouders", showing up on the lists of the sprinters and the climbers, while staying in the top ten for overall time. Cadel Evans of Australia is last year's winner. He started racing mountain bikes, so he has the all-around talents.
June 29, 2012 2 Comments
Free At Last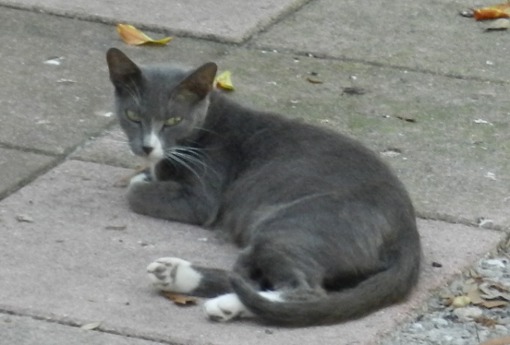 What do you want?
[Editor: Ms Underhouse is finally getting some 'me' time having weaned the kittens and discouraged them from visiting. The paving stones in the shade is a good place to dissipate heat.]
June 29, 2012 4 Comments