Posts from —
December 2008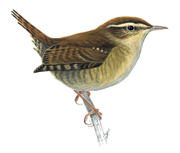 While December 26th is celebrated by a lot of people in the US in shopping malls returning gifts or taking advantage of inventory clearance sales, there are other celebrations.
It is the first day of the Kwanzaa celebration, which is explained at the link.
It is Boxing Day, a celebration of noblesse oblige when the upper classes bestow gifts on the lower and the contents of the poor boxes are distributed. Under the feudal system this was part of the "contract," the mutual system of obligations that tied the system together.
As the feast of St. Stephen it honors the first Christian martyr, but Ireland's Saint Stephen's Day celebration is a bit different and is the reason for the wren on this post.
However, this post is really my complaint about "Good King Whatshisface."
December 26, 2008 13 Comments
Merry Catmas?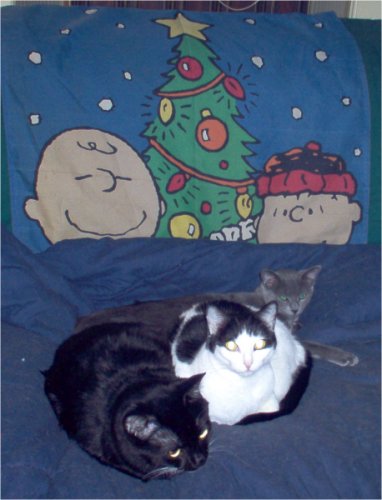 HO! … Ho? … Whatever.
[Editor: A rerun showing as close as I will ever get to putting antlers or a hat on any of the cats.
December 26, 2008 8 Comments
Cancer has claimed two political activists and entertainment figures.
Harold Pinter, 1930-2008, was a playwright, screenwriter, actor, Nobel laureate, conscientious objector, socialist, and major critic of Bush and Blair.
Eartha Kitt, 1927-2008, was a singer and actress whose public opposition to the Vietnam War resulted in her being "blacklisted" for years. She was sophistication personified, and no one who has heard her voice will ever forget it.
December 25, 2008 2 Comments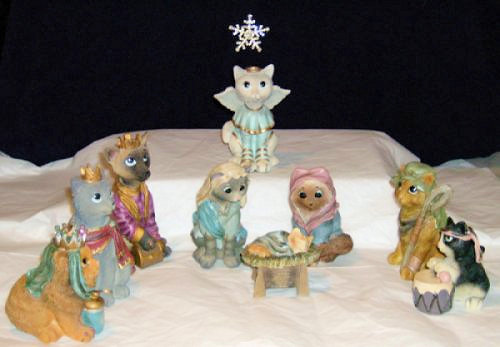 Note: title "borrowed from here.
December 25, 2008 4 Comments

Ho Ho Ho!
Happy NODWISH
С Рождеством Христовым
Sung Tan Chuk Ha
Vrolijk Kerstfeest
Nadolig Llawen
Fröhliche Weihnachten
Joyeux Noël
Buon Natale
Feliz Navidad
God Jul
Rauhallista Joulua
Happy Christmas
December 25, 2008 9 Comments
Catnapping at The Odd Neighbor has almost completed her version of the Twelve Days of Christmas graphics and haikus. They are available via this link.
The world needs more whimsy.
December 24, 2008 Comments Off on For Your Viewing Pleasure
So it's time to get everything in line so that there will be smooth sailing tomorrow.
Obviously you need the text of A Visit from St. Nicholas [AKA Twas the night before Christmas] or one of the variations.
But now that you've finished putting up enough lights to match the total electrical consumption of a third world nation, you can sit back and watch the North American Air Defense Command's annual attempt to take out that red-suited commie's attack on the capitalist system by giving stuff away. [Don't worry kids, they are using the anti-missile defense system, so there's no danger to anyone but taxpayers.]
December 24, 2008 12 Comments

[I am listening to A Festival of Nine Lessons and Carols from King's College, Cambridge and working on major appliances so here's my Christmas Eve post.]
The British have some wonderful Christmas customs that have survived the incursion of Christianity, especially the Puritan party poopers. Stealing customs from the Celts, Germans, and Scandinavians, they have created a wonderful holiday that I fondly remember from time spent there, parts of which members of my family have adopted from time in various locations in the Commonwealth.
The bird is a European robin that is featured on British Christmas cards, as it is a Winter bird in England, unlike the fair-weather laggard of the same name in America. It is bracketed by holly and mistletoe. All go back to the druids and solstice celebrations.
If you read the Harry Potter books you will get a taste, but not the full effect of a British Christmas. A full-on Christmas dinner is wretched excess to the nth degree – Thanksgiving on steroids.
The BBC has the background on Father Christmas.
December 24, 2008 8 Comments
I drove by Walmart today, and they had a good crowd in the parking lot… well, a good crowd for a Saturday, in the Spring, before the tax refund checks have started to arrive.
There were no back-ups in the lot of people looking for parking spots, as spots were available all over. Two years ago they were parking on the grass and there were people waiting in the driving lanes. [Note: I get to observe the parking lot because of the taxpayer funded traffic lights that bracket the Walmart location.]
I go out on the 23rd every year to be sure I won't need anything until the 27th. This year is really bad locally.
December 23, 2008 6 Comments
It looks like I will be spending Christmas Eve locating and replacing the belt on my Mother's clothes dryer, or, possibly stringing and using a clothes line, which is not a great idea in an area with a concentration of doves and seagulls that perch in the overhanging trees.
There are only two places that are likely to have the part locally, and, at this time of year, it is highly unlikely that if it is not available locally I can get it in less than a week.
The joys of life in a small town.
Update: We have rotation, and an actual, real, made in the USA replacement part. $19 for 92 inches of a ¼" wide strip of fibers coated in rubber, but it works and went on as advertised.
December 23, 2008 7 Comments
Yes, today is the celebration of the very untraditional Festivus.
If you celebrate I hope all of your grievances were aired and the airing did not involve the Festivus pole being used in an inappropriate fashion.
December 23, 2008 8 Comments
It would appear that the editors of The New York Times are as gullible as Ms Palin: Times published fake letter from Paris mayor. I guess we'll see Nigerian investment strategies in the Business section next.
It isn't just the Big 3 in trouble as Toyota will post its first loss in 70 years because cars aren't selling.
And, least and last, will someone buy this man a clue: Pope puts stress on 'gay threat'
Pope Benedict XVI has said that saving humanity from homosexual or transsexual behaviour is just as important as saving the rainforest from destruction.
Excuse me, but I think the loss of oxygen, and the flooding of major inhabited areas that will result from the destruction of rainforests is a bit more critical than what goes on in peoples' bedrooms.
December 22, 2008 4 Comments
First off, my ancestors were the first European settlers in the Mohawk Valley of what was New Holland, and has since become the state of New York. I was born in and graduated from a high school in that valley. My parents home towns are in that valley and I have hundreds of relatives who still live there. From 1964 through 1983 I was a registered voter in upstate New York. I have an interest in what happens in New York state.
Caroline Kennedy is a famous unknown. Her father was assassinated 45 years ago, so many of the people in New York state media and politics have no personal memories of JFK. Like her mother, whom she resembles, Caroline Kennedy has been a very private person with a familiar name.
Caroline Kennedy's uncle Robert and Hillary Clinton are famous people who became Senator of New York and used it to run for President. They did, at least, run for election in the state, and both won with the support of upstate voters.
December 22, 2008 7 Comments
"Friends" are people who you can call in the middle of the night to pick you up at the airport because you don't have the cash for a cab and the buses aren't running.
"Friends" are people who will let you sleep at their place when you have a major disagreement with your "significant other".
"Friends" drop by unannounced.
"Friends" will take care of your pets.
"Friends" will still talk to you after you have made a complete fool of yourself.
"Friends" accept you for who you are, and don't expect you to change, even when they might wish you would.
December 21, 2008 13 Comments