Kevin Drum accuses Jacques Chirac of France of failing to provide sufficient troops for Lebanon, probably unaware of the forces that are already in country with UNIFIL.
Swopa thinks this was a US-Israeli-French scheme to end the fighting while forestalling any restrictions on actions.
Juan Cole thinks:
The UNSC resolution was vague because US ambassador to the UN John Bolton wanted it vague or wanted the language about disarming Hizbullah in there. The Bush administration still has not learned the rule that you can throw your weight around at the UN and can do as you please, but if the results don't suit other countries, they take revenge on you by simply refusing to save your bacon. It happened in Iraq. Now it is being repeated in Lebanon.
August 18, 2006 Comments Off on Multinational Farce For Lebanon
If you are ever stuck up to your waist in a vat of dark chocolate, you should add cocoa butter to thin the mixture so that you can climb out.
August 18, 2006 6 Comments
It's Hot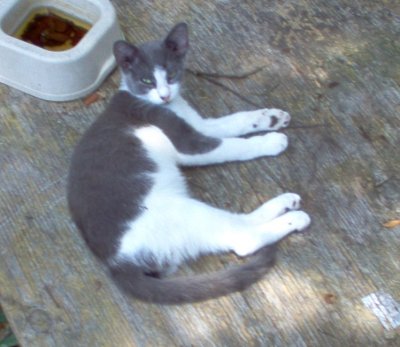 If I have to move, you will regret it.
[Editor: Katy [AKA KT – Kitten of Terror] is too hot to move. If I jumped on the plywood she's lying on, I feel certain she would retaliate at some point.
August 18, 2006 9 Comments