If I were a dedicated multimedia blogger I would have this post start the Dawn fanfare from Richard Strauss's Opus 30: Also Sprach Zarathustra, a program piece based on the ever popular book, Thus Spake Zarathustra by Friedrich Wilhelm Nietzsche. Nietzsche, Nazi, nitwit, and neocon all seem to go together in feeling that they can't feel better about themselves unless they work to degrade others.
This is a reaction to an error I made before I consumed my first quart of coffee this morning: I deleted a real comment while ridding myself of a dozen bogus blurbs that promised either to reduce things or enlarge them.
The comment from Minou of French Tidbits dealt with the hypocrisy of violence during the month of Ramadan. This also connects into the this entire net of nut cases that people have had to deal with since someone thought it was a good idea to form groups larger than a family.
September 24, 2006 Comments Off on Cue the Dawn Fanfare – part one
Florida License Plates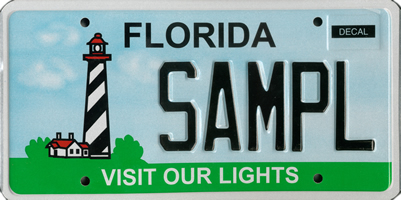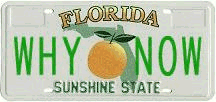 A weekend feature of Why Now.
September 24, 2006 Comments Off on Passing the Plate