Posts from —
November 2009
Rumor has it the Rupert Murdock is negotiating with Microsoft over the "rights" to search News Corpse sites.
What a fantastic concept – really. This means that Google News searches won't be clogged with Rupert's dross, and all of the wingers will be using Bing.
Like all of the other "media moguls", Rupert is in hock for everything he bought, and he needs to get his hands on actual cash to pay off some of his debt or he'll be back to selling papers from a street cart in a village somewhere.
On paper, Murdock is a wealthy man. The paper is now down below what is used in public toilets. These guys have been living large on credit card checks for a very long time, and people are finally demanding real money. Leveraged buyouts are a scam, a form of Ponzi scheme, and now the con men have to pay for what they bought because the easy credit is gone.
November 24, 2009 9 Comments
Dr. Jeff Masters notes the end of a stalwart ally in the tropical weather community: QuikSCAT, 1999 – 2009: R.I.P.
The QuikSCAT satellite is no more. The sad new of QuikSCAT's demise came yesterday in a terse message from NASA:

Several hours ago, shortly past 7:00Z today (23Nov), telemetry received from QuikSCAT indicates that the antenna rotation rate has dropped to zero and remains at zero. The motor remains powered. The system can be operated safely in this state for an indefinite period. The QuikSCAT operations team will be meeting later this morning, but in all likelihood this is the end of the nominal mission".

Launched in 1999, the QuikSCAT satellite became one of the most useful and controversial meteorological satellites ever to orbit the Earth. Forecasters world-wide came to rely on QuikSCAT wind data to issue timely warnings and make accurate forecasts of tropical and extratropical storms, wave heights, sea ice, aviation weather, iceberg movement, coral bleaching events, and El Niño. Originally expected to last just 2-3 years, QuikSCAT made it past ten, a testament to the skill of the engineers that designed the satellite…
Unfortunately, the funding necessary to replace the QuikSCAT was lost to the anti-scientific zeal of the Hedgemony and a Republican Congress of Luddites.
Fortunately it was there for the "interesting" 2004 and 2005 seasons, but we now have one less tool to warn people of what is coming. If the money were allocated today, a replacement could be in orbit in 2016 at a very reduced price on a Japanese satellite, but the Blue Dogs don't like science anymore than their Republican siblings.
November 24, 2009 4 Comments
If the Congress ever actually does anything about health insurance reform, it will probably be just in time to watch the last doctor stop accepting insurance patients.
While Congress has been worried about not threatening insurance companies, doctors have become so fed up with trying to deal with them and their denial of claims that they are moving to pre-paid or COD practices. While insurance companies executives have been making the big bucks, doctors and other health care providers have had to hire more billing clerks just to get paid.
This means that people will be expected to deal with insurance companies directly to get reimbursed for money they have already spent. Given the problems that doctors have getting paid, I think we can anticipate even larger profits for insurance companies.
Patients don't like insurance companies, and doctors don't like insurance companies, so why is Congress writing bills to benefit insurance companies?
November 23, 2009 3 Comments
It was afternoon and I was on my way to a chemistry class. I had stopped for a drink of water when the news came over the speakers in the classrooms.
For those who weren't alive at the time: remember what you felt on September 11, 2001 for a taste of November 22, 1963. It was a massive change for the worldview of my generation and it marked the beginning of a period of disruption and decline in the civility of American society. Arthur had died and Camelot fell.
At his inauguration John Kennedy made the point: "If a free society cannot help the many who are poor, it cannot save the few who are rich."
The colors of my world will never be as bright as they were on November 21, 1963.
Last year, following the elections allowed myself a small portion of optimism about the future based on the results. I assumed that there would be a course correction and we would begin to repair some the damage of the Hedgemony. Alas, I was wrong as the corporations are more firmly in control than ever.
November 22, 2009 17 Comments
I keep seeing people saying that trying the "terrorists" in US courtrooms will give them a stage. That displays nothing but the speaker's ignorance.
Ever see video of a trial? Isn't wasn't taken in a Federal courtroom. Audio? Still not Federal. How about photographs? Nope, no photography in Federal courtrooms.
If these guys are looking for a stage, they would get a bigger audience off Broadway, or at a Fringe festival.
Federal courtrooms are not large, and you need to be able to take written notes if you want to report from one. Large media outfits might have a courtroom artist, but that's the extent of the visuals. So, the information coming from the Federal courtroom in any of these trials is dependent of the handwriting of journalists, if there are still any journalists with the requisite skills.
Most of the defendants do not speak English. Any speeches will have to be translated, which is not exactly conducive to stirring rhetoric, and most translators these days are not native English speakers, so reporting on any speeches will be extremely condensed.
These trials will be public, but that is usually limited to a few dozen people. The journalists can expect to be limited to a pad of paper and a couple of pencils in the courtroom because of security. If you want great theater, you will have to wait for a book or screenplay, because real trials are seldom gripping, or entertaining at the Federal level.
November 21, 2009 12 Comments
The CNN Political Ticker notes: Bishops slam 'unacceptable' health care bill
Washington (CNN)– The US Conference of Catholic Bishops sent a strongly worded letter to members of the US Senate Friday, terming the abortion language in the Senate Democrats' health care bill "completely unacceptable."

"The new Senate bill is an enormous disappointment, creating new and completely unacceptable federal policy that endangers human life and rights of conscience," reads the letter obtained by CNN Congressional Producer Deirdre Walsh.
I guess it was an oversight that the Bishops didn't mention the financial involvement of the Church in the debate as one of the largest hospital systems in the country, nor stress how change the wording would benefit that network financially. "Conscience" has been a fluid concept with the Church when it involves its financial interests.
The Bishops might want to spend a little time considering the concept in Matthew 7:3 before making pronouncements.
November 21, 2009 9 Comments

The ABC reports on the current situation: NSW fire crews prepare for horror day
The Rural Fire Service has used improved weather conditions overnight to attempt to bring a fire threatening the townships of Kandos and Rylstone in central-west NSW under control.

The fire, fanned by strong winds, came within 8 kilometres of the townships.

But firefighters will be given no reprieve with weather conditions expected to deteriorate today with winds and high temperatures forecast.

Overnight 70 fires were burning across the State, mostly in remote and inaccessible terrain in the Blue Mountains the Hawkesbury region and northern areas.

Much of New South Wales is expected to get above 40 degrees, with winds gusting at up to 60 kilometres an hour forecast.
First some background: November in Australia is like May in the US, so temperatures above 96° F [40° C] are decidedly not normal for an area that corresponds to Virginia in the US. This is the end of their Spring, and New South Wales is the coldest area of the country. This is where the ski resorts are.
Update: From comments Australian climatic zones to help you see what's going on.
November 21, 2009 9 Comments
Echidne located a disturbing piece of cartography, an animated Unemployment map, that shows the spread of the problem at the county level since January of 2007.
It's like one of those stock pieces of film footage with the map burning to show the spread of warfare or a plague.
November 21, 2009 6 Comments
It's hard to believe that I have been doing this for 5 years.
Thanks to everyone who stops by, even if it's only for the Cat Blogging.
November 21, 2009 21 Comments
According to the Bradenton Herald: Study: Fla. tax system one of least fair
If you are a Florida resident with low to moderate income, you are paying a disproportionate amount of state and local taxes.

So says a nationwide study of state tax systems that shows Florida has the second worst tax system in the U.S. in regards to fairness.

Florida families in the lowest income group — $10,500 a year — pay an average of 13.5 percent of their income in state and local taxes as compared with families in the highest income group — $2.4 million a year — who pay an average of 2.1 percent of their incomes in taxes. Moderate income people — those making $37,400 a year — pay an average of 9 percent of their income in taxes, according to a report by the Institute on Taxation and Economic Policy based in Washington, D.C.
The Florida sales tax, currently 6%, is designed to tax things that poor people need to buy, while exempting many things that the wealthy buy. Go to a ball game and the common people in the bleachers pay sales tax on their tickets, but not the important people in the sky boxes.
However, as Dan Gelber, Democratic candidate for attorney general, notes Florida is first in the number of public officials charged with corruption, which I'm sure annoys Alabama. [Via Hipparchia]
November 20, 2009 5 Comments
The Follower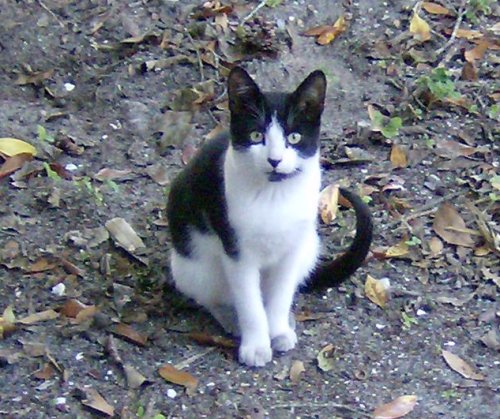 Cheese?
[Editor: Adolf has become much calmer since he stopped hanging around with Lucrezia full-time. He isn't exactly friendly, but he is no longer in full "Axe Murder" mode when he sees me.
Note that the site with be down for maintenance from 11AM to 5PM CST [1700 – 2300 UTC] today, Friday November 20th.
November 20, 2009 11 Comments

Lightning from from recent storms and temperatures in excess of 40°C [96°F] have sparked fires across southern Australia and the island of Tasmania.
The ABC reports that Fire-weary residents too terrified to sleep
As bushfires burn across three states and temperatures soar past 40 degrees in areas with catastrophic fire warnings, some residents say they are too afraid to let down their guard.

Dozens of fires are burning in the north and central west of New South Wales and on Sydney's northern outskirts.

Two homes are on fire in New South Wales – one at Castle Cove on Sydney's north shore and at Campbelltown, in Sydney's south-west.

The NSW Fire Brigade believes the homes may have caught fire after being struck by lightning.

Superintendent Ian Krimmer from the Fire Brigade says fire crews are on the scene and there are no reports of any injuries.

Five blazes are still causing concern at Inverell, Narrabri in the Hawkesbury region and two at Glen Innes.
The El Niño effect that reduces the Atlantic hurricane season produces hot and dry summers in Australia. It is going to be a long and tough fire season.
November 19, 2009 Comments Off on Australian Bushfire Season Has Started
Mark Schleifstein of the News Orleans Times-Picayune writes that reality has been accepted: Corps' operation of MR-GO doomed homes in St. Bernard, Lower 9th Ward, judge rules
In a groundbreaking decision, a federal judge ruled late Wednesday that the Army Corps of Engineers' mismanagement of maintenance at the Mississippi River-Gulf Outlet was directly responsible for flood damage in St. Bernard Parish and the Lower 9th Ward after Hurricane Katrina.
MR-GO acted like a fire hose against the floodwall and battered it down. That has been shown in every study conducted after Katrina. The wall of water that wiped out the Mississippi and Alabama Gulf coast funneled into the MR-GO and slammed into the floodwall that wasn't built or designed for such an assault. This problem has been known about since 1988, but nothing was done.
New Orleans didn't sustain much damage at all from the storm itself, because the eye passed to the East of the city. It was the failure of the levees and floodwalls that killed hundreds and destroyed neighborhoods.
The government will certainly appeal this ruling, because accepting responsibility for their screw-ups is not in their nature.
November 19, 2009 6 Comments
CNN reports that Senate leader unveils $849 billion health care bill. Early reviews are that it is an amazing 2000+ page bill that accomplishes the near impossible task of being even worse than the House bill.
It's not that it isn't perfect, it isn't even mediocre. This is a demonstratively bad bill that is designed solely to help insurance companies by forcing people to buy worthless insurance policies. It is partially financed by a tax on good insurance policies, which means that companies with certainly dump those, so everyone, including people who currently have good policies will feel the pain.
It's time for a third party that actually promotes the interests of the people in this country, not the corporations.
Update: on page 618 they restore funding to the total failure that was the abstinence only education program. The funding was cut because it was worthless; it failed to meet any of the goals; the teen pregnancy rate went up where it was used. Why are taxpayers spending money on faith-based failures, while needed programs are unfunded?
November 18, 2009 8 Comments