As has become the custom in recent years we have the al Qaeda pre-election tape:
Calling President Bush "the murderer and spiller of Muslim blood," al Qaeda's top deputy released a videotape Friday accusing the U.S. president of being a "deceitful charlatan" who has lied to the American people.

Ayman al-Zawahiri also blasts the Bush administration for holding Khalid Sheikh Mohammed, an alleged 9/11 conspirator, in a secret prison and alleging that Mohammed gave interrogators "valuable information which has helped the crusaders to kill and arrest a number of al Qaeda."

"I ask this lying failure, who are the leaders of al Qaeda whose killing or capture was facilitated by the information extracted from Khalid Sheikh Mohammed?" al-Zawahiri asks. "Khalid Sheikh Mohammed, may Allah free him, has hurt you thousands of times more than you have hurt him."
I'm beginning to suspect that al Qaeda does this to help the Shrubbery with elections. They have been extremely consistent in issuing these tapes, and have to know that they generally benefit the Republicans.
No, I'm not suggesting there is a link between al Qaeda and Karl Rove. I'm merely commenting on this biennial custom.
October 1, 2006 7 Comments
CNN this morning:GOP leaders assail Foley amid Democratic criticism¹:
House Republican leaders mounted an effort to explain their own conduct after the resignation of Rep. Mark Foley, and they suggested there should be a criminal investigation of Foley's contacts with congressional pages.

A strongly worded statement assailing Foley from the chamber's top three Republicans came as they addressed questions about what they knew of the incidents and what action they took.

Calling Foley's contacts "an obscene breach of trust," the congressmen said in their statement that his "immediate resignation must now be followed by the full weight of the criminal justice system."

"The improper communications between Congressman Mark Foley and former House congressional pages is unacceptable and abhorrent," read the statement issued by Majority Leader John Boehner of Ohio, House Speaker J. Dennis Hastert of Illinois and Majority Whip Roy Blunt of Missouri.

Foley, a Republican from Florida, resigned Friday after his alleged e-mail exchanges with a teenage male page were made public, and the House voted to launch an investigation. Foley apologized to his family and his constituents.
Note to CNN: it isn't "alleged" when the bloody e-mails have been published all over the world.
October 1, 2006 4 Comments
Florida License Plates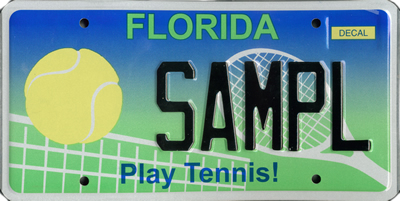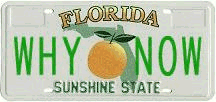 A weekend feature of Why Now.
October 1, 2006 5 Comments