The Department of Defense [DoD] was created by National Security Act of 1947 by combining the War Department and the Department of the Navy. It was originally called the National Military Establishment [NME], but the name was changed after someone said the initials aloud. Under Rumsfeld and the Shrubbery, it might be a good idea to revert to the original name.
Jillian of skippy the bush kangaroo reported on the The San Diego Union-Tribune story about the food distribution on San Diego county military bases. The story mentioned the families of Marine Lance Corporals and Corporals, which are military pay grades E-3 and E-4 respectively.
I thought I would give you the numbers so you have some real idea of how we pay our military. These numbers are for a Corporal [E-4] with three years of service stationed in Iraq, who has a spouse and two pre-school children.
The Corporal receives the following compensation:
Base Pay:
$ 22,111.20
Basic Allowance for Subsistence:
3,267.12
Basic Allowance for Housing:
17,928.00
Family Separation Allowance:
3,000.00
Imminent Danger Pay:
2,700.00
Total Annual Compensation:
49,006.32
Annual Payroll Withholding:
1,691.51
Net Annual Earnings:
$ 47,314.81
October 20, 2006 4 Comments
October 20, 2006 Comments Off on Fine Rants
My Lap Runneth Over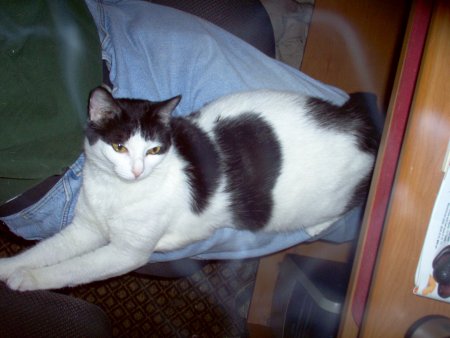 You need longer legs.
[Editor: Dot decided to try a new orientation but has to hook a claw in the armrest to keep from sliding off.]
October 20, 2006 8 Comments