The predictable Friday news dump has CNN et al. reporting:
A key aide to presidential political strategist Karl Rove resigned Friday in the wake of a congressional report that listed hundreds of contacts between disgraced lobbyist Jack Abramoff and the White House.

Susan Ralston, special assistant to President Bush, submitted a resignation letter to him less than five weeks before congressional elections in which corruption and scandal are emerging as key issues for voters.

"She did not want to be a distraction to the White House at such an important time and so we have accepted her resignation," White House deputy press secretary Dana Perino said.
She worked for Abramoff and then was hired by Rove, but the White House couldn't remember "having relations with that man."
October 6, 2006 Comments Off on Abramoff's Contact In The White House Resigns
Nearly everyone has been in a building with red boxes in the hallways that said "In Case of Fire Pull Alarm." When a building is occupied this is a very efficient system for notifying the people in the building, and usually the local fire department, that there is a problem.
About the only thing that prevents the system from working is if someone sees a fire and decides that rather than using the fire alarm they will see if they can handle the problem themselves.
Using the Pull boxes is part of the "standard operating procedure" [SOP] for that building. That is what people are taught to do.
After the 1983 scandal, Congress made a number of changes designed to prevent this from happening again. The pages were put in a dormitory and required to sign in and out. An oversight group, the Page Board, was created to deal with the program. Procedures were established to provide Congress with the low-cost labor of pages and the pages with a good resume item for later life while providing the oversight needed for a group of 16-year-old high school juniors.
The one weakness in the system is the need for the people in charge to be willing to follow the procedures and "Pull the Handle."
October 6, 2006 2 Comments
Ringo Does DeNiro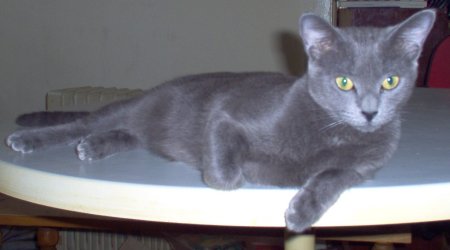 You talking to me?
[Editor: Ringo kept tensing then relaxing as a moth had entered the house. She finally leapt and eliminated the moth, while sparing the lamp…this time.]
October 6, 2006 8 Comments