Borat Will Love This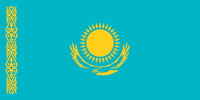 Most people are blissfully ignorant of Kazakhstan, once a Republic within the Soviet Union. Space fans might have picked up on the fact that Russian space launches and recoveries take place in Kazakhstan, or maybe you came across it in a crossword puzzle as one of the three Eurasian countries, Russia and Turkey are the other two.
Then a British comedian, Sacha Baron Cohen, created the character of Borat Sagdiev [Борат Сагдиев], a fake Kazakhstani journalist, and the government of Kazakhstan became really upset at the image of the country that was being displayed on British and American television sets.
President Nursultan Nazarbayev was so annoyed, that he filed diplomatic protests with both the US and the UK. Mr. Nazarbayev is attempting to convince the world that Kazakhstan is a stable, modern country ready to take its place among the community of nations.
So one of the last things you want when you are trying to avoid being the butt of jokes around the world is have your central bank misspell the word "bank" on the new bills they just printed.
If you look at this image of a 2000 tenge note [$15.63, 128 tenge = $1 US], you will see "БАНКI" printed on the left side. The new notes have "БАНҚI" printed on them. Non-Kazakhi wouldn't notice the difference, but there is a pronunciation difference between the Қ and the K. When transliterated into the Latin alphabet the Қ is rendered as Q, while the K is just a K.
Compared to the other Turkic former Republics, the government of Kazakhstan is sane and free. Well, Ludwig of Bavaria was sane compared to the leader of Turkmenistan, and Uzbekistan would make Nazi Germany look like Berkeley.