The BBC History feed for today contained this:
1836: Mexican troops massacre the American garrison at the Alamo, an event that has entered US mythology.
The people in the Alamo were Texans, not Americans. They were residents/citizens of the Mexican province of Texas in revolt against their government. The event is history, not mythology, unless you insert the bit about there being Americans in the Alamo.
Texas became an independent republic before it joined the United States in 1845, just in time to provide an excuse for the Mexican War in 1846.
Update: Before someone brings up Davy Crockett and Jim Bowie – they were essentially what we would call "illegal aliens" today, or possibly "enemy combatants" if you were the Mexican government.
March 6, 2009 8 Comments
Tomorrow is Susan Butcher Day in Alaska which signals the start of the Iditarod, but all they are going to do tomorrow is hold a parade. The real race begins on Sunday at 2PM [AKDT] which is 5PM [Central DAYLIGHT SAVINGS Time].
Yes, under the new benighted system, Daylight Savings Time starts at 2AM Sunday morning, which instantly becomes 3AM. You lose an hour of sleep.
We have some kin dropping by for the weekend, if they ever get here. I was supposed to be picking them up right about now, as a matter of fact, but their plane to Atlanta was late, while the plane from Atlanta left early. That's the sort of planning that results in the current economy. They have been told they will be on a later plane, and I didn't want to bum them out with the truth that "later plane" is a rather indefinite guarantee.
Weekend blogging will be spotty.
March 6, 2009 8 Comments
Ringo Ringer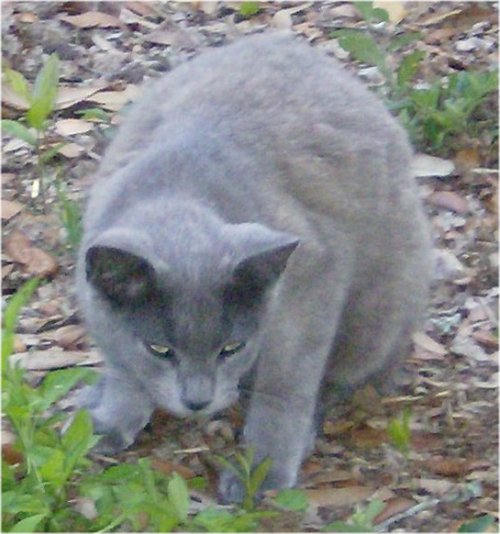 Go away! I'm hiding!
[Editor: I featured this guy eating and hiding back in September. It's getting so that I have to look twice to be sure it's not Ringo, because both have light green eyes.]
March 6, 2009 9 Comments