The BBC says they are calling it the Public-Private Investment Program, but it's Baldrick's [Timothy Geithner] cunning plan to clean up bank balance sheets.
They are building a "Bad Asset Relief Fund" to create a Septic Bank™ to deal with the paper, and they say it is undervalued.
First off, no one knows how to value this stuff, because there has been no clear explanation of what they are trying to sell. No one wants to buy it, because they don't know what they would get for their money. There is no market for these things because people have finally figured out that the people who were selling them lied about what they were selling.
What has been proposed is that the government will loan investors the majority of the money to buy this garbage, and if it turns out to be worthless, the loans don't have to be paid back.
March 23, 2009 3 Comments
The BBC tells us why monitoring volcanoes is important in its report on the eruption of Mount Redoubt in Alaska.
John McKay has a lot of background and maps on the eruptions in his Boom! post. John has family in the area.
While they talk about "ash", think powdered glass, and remember that you need something with the hardness of diamonds to cut glass. This stuff does nothing good for living things or machinery. It destroys jet engines. The Air Force has put its aircraft under cover at Elmendorf AFB outside of Anchorage to protect it from the ash.
This is well South of the area where the Iditarod is ending, but it will be a pain for teams returning to Wasillia, Willow, and Anchorage, as well as anyone who wants to fly out of the Anchorage airport.
March 23, 2009 2 Comments
Just after 3 4AM CDT:
45 Rachael Scdoris (58) 03/23 12 01:08:50AM AKDT 14 days 10 11 hrs 8 mins 50 secs.
[Someone forgot to change their clock. Now Rachael can look forward to the 3000 mile road trip to take her dogs back to Bend, Oregon.]
46 Tim Osmar (57)
47 Wade Marrs (48)R
White Mountain: [Noon CDT the group is headed for Nome; at 9PM CDT they had finished]
48 Trent Herbst (20)
49 Michael Suprenant (11)R
50 Eric Rogers (60)
Out of Elim: [Both out of White Mountain at 8PM CDT]
51 Heather Siirtola (63)
52 Timothy Hunt (64)R [Red Lantern]
Heather Siirtola must have really been wiped out; she spent 28 hours at Elim before leaving just behind Timothy Hunt just after midnight AKDT.
Scratched at Shaktoolik: Alan Peck (32)R was looking at about two days on the trail alone. Finishing would have been nice, but the winds really beat up on him and his team.
March 23, 2009 Comments Off on Morning Update – Rachael's In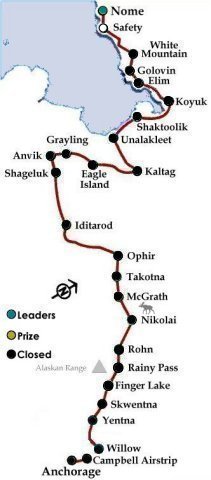 Finished as of Midnight CDT:
43 Jen Seavey (61)R
44 Tom Thurston (27)R
On the trail between White Mountain and Nome:
45 Tim Osmar (57)
46 Rachael Scdoris (58)
47 Wade Marrs (48)R
On the trail between Elim and White Mountain:
48 Trent Herbst (20)
49 Eric Rogers (60)
50 Michael Suprenant (11)R
In Elim:
51 Heather Siirtola (63) [nearly 24 hours]
52 Timothy Hunt (64)R
On the trail between Shaktoolik and Koyuk:
53 Alan Peck (32)R [Red Lantern]
March 23, 2009 2 Comments