Last week Scorpio had a post that went to the heart of the situation: Have they actually read it? Asking me to accept that Limbaugh actually read a 1,000 page science fiction novel is really pushing the envelop of disbelief.
Then Badtux located a compare and contrast between Atlas Shrugged and the Lord of the Rings. I would note that there is another important difference: JRR Tolkien knew he was writing fiction.
Perhaps in the creation of an alternate world for a novel, some fall into the trap of believing that they can will their world into existence. Unfortunately such things only occur in fiction and the minds of certain individuals.
March 22, 2009 7 Comments
Mitch Seavey (21) is the father of Dallas Seavey (62), who is married to Jen Seavey (61)R.
Sonny Lindner (42) is the father of Chad Lindner (26)R.
Cim Smyth (37) and Ramey Smyth (16) are brothers. [Becca Moore, Ramey's wife, was a Yukon Quest rookie this year.]
Ray Redington Jr (10) and Ryan Redington (13) are brothers.
Aliy Zirkle (24) is married to Allen Moore (6).
[This could be the backdrop for the next National Lampoon "vacation" movie.]
March 22, 2009 19 Comments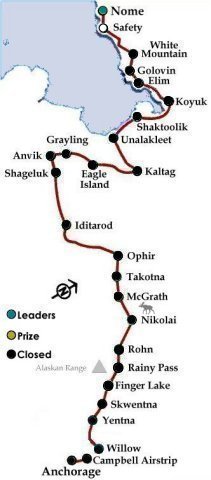 David Sawatzky (66) was faced with the ultimate frustration. He has scratched after leaving Safety for Nome because his dogs just didn't want to move. He led them for several miles, but fatigue got the best of him. His 11 dogs made it to Safety at about 7 mph, so they still had the pace, but the leader apparently quit.
The "red lantern", Alan Peck (32)R, is on the trail beyond Unalakleet headed for Shaktoolik.
Finishers as of Midnight CDT:
33 Allen Moore (6)
34 Robert Bundtzen (51)
35 Jim Lanier (35)
36 Ryan Redington (13)
37 Harry T Alexie (67)R
38 Bill Cotter (65)
39 Rick Larson (5)
40 Karin Hendrickson (29)R
41 Cindy Gallea (49)
42 Mike Williams (39)
March 22, 2009 2 Comments