Lance Mackey (47) picked up another $2,500 in gold nuggets for being First to the Coast in Unalakleet, and he's planning to leave before Sebastian Schnuelle (34) gets in. The temperature dropped to -30° which is a normal winter temperature for his kennel in Fairbanks, so his team reacted to the temperature by picking up the pace.
It's hard for people who don't live there to understand, but +30° is a problem for dogs raised in the interior. The temperature drop helped him widen his lead. This race is his to lose at this point.
March 15, 2009 Comments Off on Like He Needs It
… at the Okaloosa County Sheriff's Office.
The Daily News reports that Two sheriff's jobs hinge on interviews:
Chief Deputy Michael Coup and Technology Specialist David Yacks — Teresa Adams' brother — are both on paid administrative leave.
…

Jim Murray, who had been with the Sheriff's Office as a staff attorney since 2001 and began contracting to do its legal work in 2006, was notified March 5 that his services were no longer needed.
It would appear that the interim sheriff is unhappy with many of the things he has found in the department.
I would be interested in knowing if "Technology Specialist" Yacks has any connection to the $500K earmark for "Okaloosa County Law Enforcement Technology" that Congresscritter Jeff Miller stuck in the budget bill that was just passed. It would certainly be embarrassing if they had to return the money, the bulk of Miller's earmarks, to the Federal government.
Remember: this is the Bible belt; these are all Good Christians®; these are Republican patriots who all wear their flag pins and emblems proudly.
March 15, 2009 12 Comments
March 15, 2009 2 Comments
Lance Mackey (47) has a two hour lead on Sebastian Schnuelle (34) on the trail to the coast. Sab is apparently interested in pairing his Yukon Quest win with an Iditarod win. The other leaders are still in Kaltag. This is a 90 mile leg of the trail, so they will have to stop at some point to feed and rest the teams, if nothing else.
Rob Loveman (50) did not scratch at Ophir, he was withdrawn under "rule 36" for not showing sufficient zeal apparently. We'll have to wait to find out what that's all about, because they pulled the plug on him while he was taking his mandatory 24-hour stop and he had only recently dropped to the "red lantern" position.
March 15, 2009 6 Comments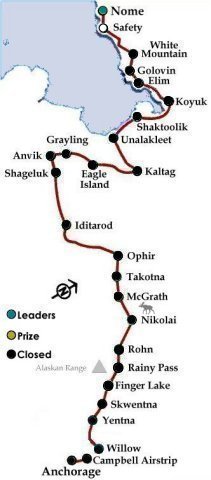 At midnight these were the top six:
1 Lance Mackey (47)
2 Hugh Neff (55)
3 Mitch Seavey (21)
4 Jeff King (41)
5 Sebastian Schnuelle (34)
6 Aaron Burmeister (56)
Sebastian and Aaron have been chasing Lance all day, but they needed to take their 8-hour mandatory rest on the Yukon, so Hugh, Mitch and Jeff have taken over the pursuit. We are in the end game.
Lance has a 3½ hour lead and more rest at this point than the chasers. If his team maintains their pace the only way of catching him is with taking less rest, but if you are tired you make mistakes, as Lance found out earlier. If your team doesn't get enough rest, there is no way of catching him. It is 70 miles to Kaltag, and then 90 to the coast at Unalakleet. Today should be interesting.
March 15, 2009 Comments Off on Race Day 8 – Iditarod