In the Pensacola News Journal we read: Pensacola attorney suspended
— Elizabeth Aileen Broome, 1004 E. Jackson Street, Pensacola, suspended effective immediately, following a Jan. 15 court order. (Admitted to practice: 1988) In December 2008, Broome was found guilty of 13 felony counts of grand theft. She took legal fees but failed to provide the legal services for which she was retained. Broome was sentenced to six months incarceration and 10 years probation. She was also ordered to pay restitution to her former clients in the amount of more than $68,000. (Case No. SC09-62)
Suspended‽ Thirteen felonies and her license is suspended‽ What do you have to do to get disbarred in this state?
The Local Puppy Trainer informs us: Ex-city marshal hopes to return
DeFUNIAK SPRINGS – Ray "Buddy" Burgess, a former city marshal who retired under ethics complaints and criminal charges for falsifying documents, is trying to reclaim the office that has been vacant since Mike Adkinson became Walton County sheriff in January.
March 19, 2009 Comments Off on Sanctity Of The Law?
Susie Madrak caught some comments by U.S. Attorney General Eric Holder on the failing newspapers. He talks about giving "newspapers more leeway to merge or combine operations" to help them out.
Dude, you missed the lesson.
The media moguls say they need to consolidate to reduce costs and regain profitability. What they leave out is the fact that their biggest increase in costs is the debt they took on to consolidate. They borrowed so much money to consolidate profitable newspapers, that they can't afford to make their payments.
The product of newspapers is news, and local news is their niche market. You can get national and international news from all kinds of outlets, but the local newspaper reporters are the only source for local stories. No one buys the local to read wire service stories; they want to know about what's happening locally. When you cut the local reporting to "save money", you are eliminating the reason people buy the paper. No one makes it a point to stop by a Starbucks for a cup of regular coffee; they stop because they want the unique drinks that Starbucks offers. Local papers have to have local news, and that's what the corporate managements have been cutting, which is why the papers are dying. If a newspaper lacks a unique voice and product, it will fail.
March 19, 2009 4 Comments
So far today these teams have ended the pain, and the dogs can finally get warm:
4 Mitch Seavey (21)
5 Cim Smyth (37)
6 Dallas Seavey (62)
7 Aaron Burmeister (56)
8 Jessie Royer (17)
The last two teams, Alan Peck (32)R and Timothy Hunt (64)R are on the trail between Eagle Island and Kaltag.
The enforced rest and better weather have lead to some very high speed runs today.
March 19, 2009 Comments Off on More Finishers
You probably have a better credit rating than your bank.
March 19, 2009 8 Comments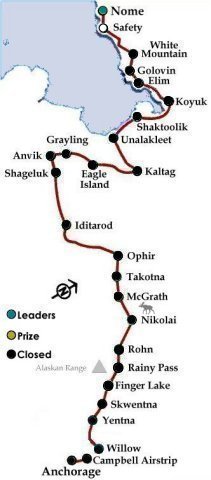 The finishers as of midnight CDT:
1 Lance Mackey (47) 03/18 11:38:46 AKDT
– 15 dogs 9 days 21 hrs 38 min 46 secs 4.76 mph
2 Sebastian Schnuelle (34) 03/18 19:05:04 AKDT
– 13 dogs 10 days 5 hrs 5 mins 4 secs 4.61 mph
3 John Baker (44) 03/18 20:18:51 AKDT
– 9 dogs 10 days 6 hrs 18 mins 51 secs 4.59 mph
The winds dropped to 10 mph and the temperature rose, so everyone started moving.
Current Standings:
4 Aaron Burmeister (56)
5 Mitch Seavey (21)
6 Cim Smyth (37)
7 Dallas Seavey (62)
8 Jessie Royer (17)
9 Ramey Smyth (16)
10 Hans Gatt (25)
11 Sonny Lindner (42)
12 Jeff King (41)
[Read more →]
March 19, 2009 Comments Off on Race Day 12 – Iditarod