I am beginning to like Tom McLaughlin. He's the reporter for the Northwest Florida Daily News who has been following the Charlie Morris [the local Sheriff] saga. His lead sentence in his article today, Morris appears in court, requests public defender, was snark worthy of a blogger:
PENSACOLA – Suspended Sheriff Charlie Morris, a retired Air Force major who until recently was pulling down six figures as Okaloosa County's ranking law enforcement officer, can't afford a lawyer.
…

Morris affirmed what U.S. Magistrate Judge Miles Davis read from an affidavit – that he was no longer working and that all his real estate holdings were "totally encumbered.

"I have no liquid funds at all," Morris told the magistrate.
I forgot that Charlie was retired military. He would be drawing half-pay for a major, plus a number of other benefits, like health care, that should enable him to live comfortably in this area with no other income. Having been Sheriff for a dozen years, he would have made about a million or so dollars in salary from the county on top of his retirement.
It should be interesting finding out where all the money went, and why he obviously needed more.
March 9, 2009 3 Comments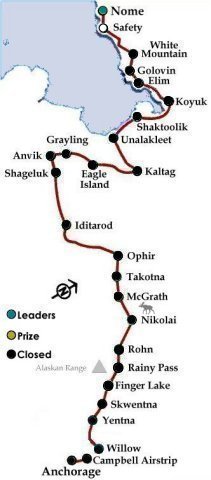 Update: Lance Mackey decided to it was time and was the first into Rainy Pass. There is snow falling, so you want to get through the Pass ASAP.
Update 2: Arrivals at Rainy Pass
1 Lance Mackey (47)
2 Bjornar Andersen (18)
3 Ramey Smyth (16)
4 Aliy Zirkle (24)
5 Hans Gatt (25)
6 Jeff King (41)
Quest winner in Finger Lake.
1 Sebastian Schnuelle (34)
2 Cim Smyth (37)
3 Robert Bundtzen (51)
4 Linwood Fiedler (28)
5 Sonny Lindner (42)
6 Wade Marrs (48)R
7 Harry Alexie (67)R
8 Nancy Yoshida (3)R
9 Lou Packer (43)R
10 Laura Daugereau (45)
Sebastian Schnuelle has obviously decided he wants to get through Rainy Pass as soon as possible, and his dogs want to run. The trail on packed snow will get worse as the teams use it.
Harry Alexie is showing his sprint skills, moving from the second to last start up to number 7.
Rachael Scdoris (58), the visually impaired musher from Bend, Oregon, has moved up to 15.
March 9, 2009 Comments Off on Race Day 2 – Iditarod
The city of Pensacola has its own retirement system that is really a collective 401k with employer/employee matching contributions. As the Pensacola News Journal reported: Pension costs pinching City of Pensacola. Big surprise, the investments aren't doing very well.
So today the PNJ runs an editorial: City's pension system is no longer supportable
… It needs to be changed and brought into line with the kind of retirement plans private businesses provide.

And in the private sector, the defined benefits plan that issues a monthly check to retirees is all but dead — because businesses can't afford it.

Neither can government.

Today, defined contribution plans — like 401(k)s — have become the norm. They don't impose long-term future liabilities on businesses (or taxpayers), are portable when employees change jobs, and cost less to administer.
March 9, 2009 6 Comments